Spasticity Basics in review
Event reports
---
---
In September 2022, we announced that our first ever course in spasticity was in development. We launched Spasticity Basics at the start of the week, and were astounded by the 167 applications which arrived by Friday.
When we launched the course in November 2022, 329 healthcare professionals had applied. Four months later 313 delegates comprising therapists, nurses, consultants, registrars and pharmacists are enrolled and undertaking the course, or have completed it already.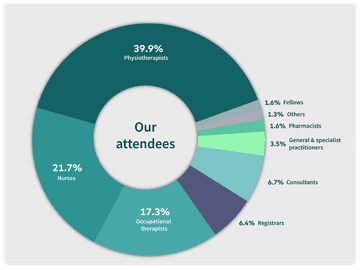 Fig 1: Breakdown of professional roles in attendance
'The diversity of speakers [worked well]; you get a feel for spasticity from different clinician points of view but also how this works together as an MDT. '
Feedback from those who have completed the course so far has been excellent with 67% of delegates stating that the course would 'definitely' influence their personal practice or local services.
'The sessions made you think about how you deliver care and how it can be improved with joined up care.'
In evaluations, 100% of delegates rated the quality of the education and its relevance to their educational needs as good or excellent, 100% reported they are highly likely to refer a colleague to the course, and 90% said they were likely or highly likely to modify their practice as a result of the education.

The free virtual course was delivered across five modules, each comprising several teaching videos and with additional resources and videos provided for those delegates wanting to dive more deeply into the content.
'I could view videos in my own time and the usual 20 minutes per video was just right for me to spend for each study section.'
Throughout the course, delegates were invited to submit questions and queries arising, and several of the speakers will be coming together in a live session on the 20th of March where delegates can attend and hear their response.
Some of the questions submitted are around the mechanisms for focal spasticity, the difference between cramps, spasms, clonus and contractures, ideas for overcoming challenges in goal setting such as cognitive impairment, and further information on when to consider splinting in specific scenarios.
Optimised education, compassionate care
Spasticity Academy seeks to address inconsistencies in service delivery and raise the level of care patients can access through improved awareness and understanding of spasticity across conditions.