Project winners of our second Neuropharmacy MasterClass announced!
News
---
---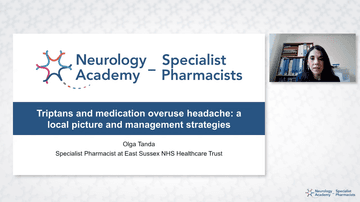 Our second Neuropharmacy MasterClass took place this year, with delegates presenting their intermodule projects, dedicated to putting their learning into practice and improving service quality in their own localities.
After each delegate shared their posters, four projects were put forward as finalists - and following presentations from each finalist, the winner was announced today.
A huge congratulations go to Olga Tanda, pharmacist in East Sussex, for her work in headache management. Her intermodule project, 'Triptans and medication overuse headache: a local picture and management strategies' audited the number of people diagnosed with migraine in her area who had been prescribed a high number of triptans and were therefore at higher risk of medication overuse headache (MOH).

'The prevalence of Medication overuse headache has been estimated as 1-1.5% in the general population, so in East Sussex around 8.400 patients can be affected.'
Her findings contributed to a series of recommendations for prescribers, headache services and commissioners:
'This pilot project that identified patients prescribed triptans at risk or suffering from medication overuse headache can be considered a starting point in the understanding of the reasons of the incidence of the problem. Recommendations regarding consultation model and prescribing patterns have been made to the prescribers as well as strategies that can be implemented to reduce the likelihood of MOH happening.'
'St Georges is 1 of 15 NHS Trusts that initiates and monitors children on the ketogenic diet. The ketogenic diet is an effective nonpharmacologic treatment for intractable childhood epilepsy (Kossoff 2018). It consists of high fat, low carbohydrate, and moderate protein. For a ketogenic diet to be effective, a strict control of carbohydrate intake is important. Reduction of seizures depends on ketosis….
Pharmacists play an integral role in minimising the amount of carbohydrate in medicines and recommending the use of low/ no carbohydrate preparations where appropriate.'
All of the intermodule projects from this, and all of our MasterClasses, are available online in our Projects section.

An innovative training programme for pharmacy professionals
Developed in recognition of the essential role that neuro-pharmacists can play in a good neurology team, this Academy exists for pharmacy professionals who want to develop expertise in neurological conditions.