Reflecting on our first Uro-neurology webinar
Event reports
---
---
Faculty members of the brand new Uro-neurology Academy covered the basics of managing urinary incontinence in neurological patients to 185 live attendees as an introduction to uro-neurology in this webinar as a precursor to the new MasterClass running in December.

The free course will explore diagnosis, assessment, treatment and management through complex cases which examine these aspects within the very individual experiences of people living with different neurological conditions, symptoms and life requirements. If you're already an expert in neurology or urology, this course will equip you with the dual skillset you need to effectively support those with neurological conditions to manage their bladder and bowel symptoms.

In this webinar, head of nursing Ruth Stross opened by presenting a case study to keep in mind during the teaching, which the group circled back to, discussing specific management of towards the end of the session.
Faculty lead and neurologist Dr Jalesh Panickeropened discussions by presenting the medical approach to management, CNS for uro-neurology Colette Haslam presented the conservative approach to management, and Sue Thomas, independent healthcare consultant, shared the NHS transformation agenda around the issues raised.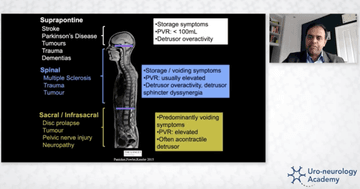 Jalesh discussed the different causes of urinary problems in neurological conditions, the complexities and interrelationships that can arise, the upper urinary tract issues to be aware of, and what to cover in a first-line assessment of bladder symptoms. He highlighted the array of information that a well-adhered-to bladder diary, noting time and volume, can provide and discussed urodynamics testing as a good option for some patients.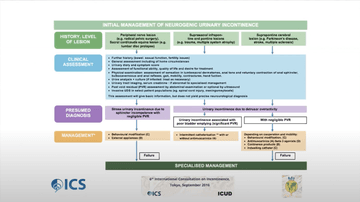 In terms of treatment options, Jalesh gave a whistlestop tour of the medical management options across oral agents antimuscarinic agents (Novara 2008; Buser 2012[1] ) and Beta-3 receptor agonists (Zhang 2021;Yuanzhuo 2022), neuromodulation and botulinum toxin. Jalesh discussed the evidence base, side-effects, and reasons for caution or avoidance for each. He then responded to questions around COVID-19 and increasing incidence of overactive bladder and functional neurological disorder.
Collette then detailed conservative bladder management for the case study presented, but highlighted that usually conservative and medical management are used together to optimise outcomes. She explained what was meant by conservative management, including behavioural changes, lifestyle modification, pelvic floor retraining and use of devices, and she discussed each aspect in more detail.
Jalesh cited Madhuvrata 2008 but i can't find this meta-analysis at all...
'The diary is your Bible, if you like, and you have to look at how patients are using their diaries, you need to explain about it - it's only as good as it's filled out, and it gives you an awful lot of information if it's being filled out properly.'
Collette Haslam, CNS in uro-neurology
Across all aspects of management, Collette shared the importance of assessment and ensuring that people are using the right options, aids and so on for them and that they are supported in the best possible combination of management options. She discussed the crossover of different symptoms with management options and how this affects their use, and went into practical details around an array of patient education spanning urgency, voiding, triggering, and other areas of urinary management.
Sue Thomas then provided an update on the NHS England and NHS Improvement neuroscience transformation programme and its implications for neurology, bladder and urology services, as well as sharing relevance for the devolved nations.Highlighting the Getting it right first time (GIRFT) reports, the importance of population planning and the push for transformation, Sue talked about the importance of looking at the need in uro-neurology, rather than the demand and ensuring that as healthcare professionals, we are asking individuals about their bladder needs. She also introduced the SWLSNN neurology specialised transformation pilot which will be covering Parkinson's, MS, epilepsy, neuromuscular disorders and functional neurological disorder (FND) - all of which commonly include bladder and bowel symptoms.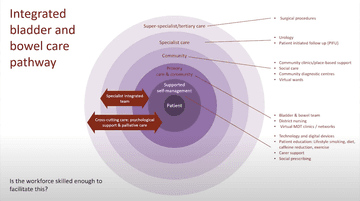 Setting the context of the wider policy agenda around bladder and bowel services and support, including reducing hospital admissions where one the highest rated causes is urinary tract infections (NHS operational planning guidance 2022), reducing use of antibiotics for the same in conjunction with addressing antibacterial resistance (NHS Wales; DHSC & DEFRA 2022) she provided some figures setting out the scale of the problem, and highlighted the importance of pathways in ensuring consistent, equitable and quality services, referencing MS as an example (www.bladdermanagement.co.uk/)
The group then revisited the case study that had opened the webinar and discussed how they would specifically go about management in this scenario. This format of case-based learning plays out throughout the new MasterClass programme.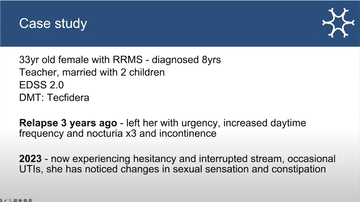 Related articles