SMA in reality: why we need early access to specialist medication
Knowledge
---
---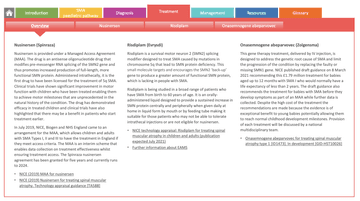 There are three possible treatments:
Risdiplam from Roche which may be offered if the child is not eligible for Nusinersen. NICE guidance for Risdiplam, an oral treatment found to improve motor function in children and adults with SMA, is expected this Summer.
The SMA pathway clearly outlines the process for the treatment of each (fig 2 demonstrates the Nusinersen pathway).
Figure 2: The Nusinersen pathway - part of the treatment section within the SMA paediatric pathway - click here to enlarge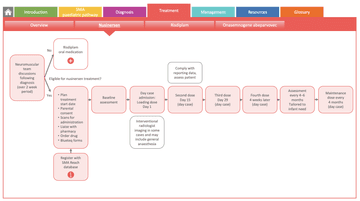 There is an expectation that treatment and management are both used harmoniously to best support the infant or child, so that disease progression is halted by treatment, and function is supported, maintained or improved through optimal management. This is outlined in its own pathway section and refers to a broad spectrum of specialisms and healthcare professionals.
Figure 3: The multidisciplinary approach in management of SMA (Mercuri 2017) cited in the SMA paediatric pathway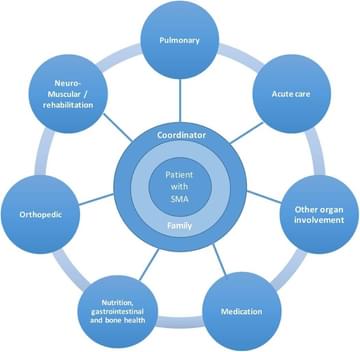 Multidisciplinary approach. Source: Mercuri E, Finkel RS, Muntoni F et al (2017) Diagnosis and management of spinal muscular atrophy: Part 1: Recommendations for diagnosis, rehabilitation, orthopedic and nutritional care
Early access to the medication is key, as progression of the condition halts from the point that the drug is received. This goes hand in hand with the need for early recognition and swift diagnosis. When all three elements are provided together, this can mean a huge difference in the life and abilities of the child with SMA.
Portia Thorman explains that Ezra was offered Nusinersen whilst it was very new to the UK. 'It was an unknown drug at the time - an experiment,' she describes. The newness of the treatment meant that Portia was unsure what to expect, and so she documents Ezra's experience with it via their Instagram account EzrasAadventures-smatype1 to help demystify this for others.
Portia wishes Ezra had been diagnosed earlier and had treatment earlier, and she wonders if Ezra would have been eligible for Nusinersen at the point he was diagnosed - its stricteligibility criteria mean that swift detection, diagnosis and treatment are important before the infant or child's condition can deteriorate.
'If Ezra had gotten the medication at 5 weeks when we first thought something was wrong, he would be able to do so much more now. But we were lucky - because there wasn't much guidance there, he got the treatment. I sometimes wonder if he would have, if it hadn't been so new.'
From 'Ezra's Journey' - brief diary entries of key milestones in Ezra's life (full picture here)

Living with treatment
These new medications are a life-changing treatment and a valuable option for many families. However, the life changes to everyone in that family are significant and access to appropriate support in making the decision about treatment also needs consideration.
Support to parents making this choice, information about what the choice means in the long-term - and what other choices may arrive as a result are all important parts of a discussion about treatment options.
Portia is clear that she refused to think about palliative care for Ezra and that ensuring he lived as well as possible was always the family's priority. However, she is also honest about the extent of the impact on their lives.

'No-one said I would have to give up my job. Or that we'd share our lounge with nurses every night. It's so important to get on well with the staff that are supporting you because they are with your family all the time and you have to trust them completely.'
Photograph: Ezra 'thoroughly entertained' in the patient transport ambulance on the way home from a respiratory appointment via EzrasAdventures-smatype1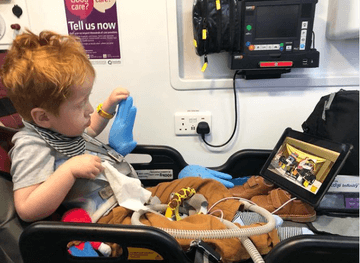 In conversations with families, being aware of their home environment and the support they might need to modify it is important. Being able to refer families to the best support through occupational therapists, council support and appropriate funding is important.
Providing the living space needed to support a child with SMA combined with the financial impact of needing to make changes to a home whilst giving up paid work could place a huge pressure on families and impact their choices. Being aware that social determinants of health may affect people's choices and that increased support may be needed, is important.

'There's so much equipment, so many different things Ezra needs. And the changes to the house - you can get a grant of up to 30,000 to do the work you need, but it's another impact on life - and of course Ezra can't be in the house at the time because of the dust. If we were in a two-up, two-down, we couldn't do it.'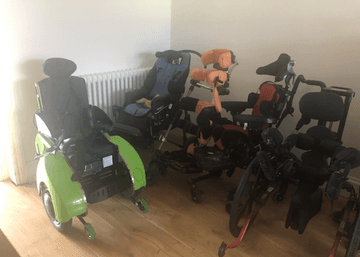 Photograph: Ezra's 'fleet' of movement aids
Related articles
Raising awareness, improving outcomes
Neuromuscular Academy is the first bespoke course for healthcare professionals to receive expert training in neuromuscular conditions like spinal muscular atrophy.