SMA paediatric pathway: the importance of MDT management
News
---
---
With the advent of so many new treatment options which can halt disease progression and enable people to regain motor and respiratory function, people with SMA can be supported to live their best life.
The new paediatric care pathway for SMA is essential in providing up-to-date guidance and expert consensus on diagnosis, treatment, management and wider care and support across primary, community, secondary and specialist services.
Collaborative approaches to care with input from a variety of different roles and skillsets has been shown to be the best way to support people living with various complex diseases and conditions (SCIE 2023) - including neuromuscular conditions like SMA.

'Multidisciplinary care is considered the standard of care for both adult and pediatric neuromuscular disorders and has been associated with improved quality of life, resource utilization, and health outcomes.'
Pagononi 2017
The latest update to the paediatric SMA pathway clearly states that this is 'key' to managing infants and children living with SMA, and clarifies that this multidisciplinary working must extend into all areas of life, including education and social inclusion.
'A multidisciplinary team approach is the key element in management of SMA infants and children and the different aspects of care should not be dealt with in isolation but as part of an MDT approach taking into consideration all aspects of daily living including school and social activities.'
SMA paediatric pathway, p12
The updated pathway highlights all elements of specialist management and support that might be needed by someone with SMA, and goes into detail for each area.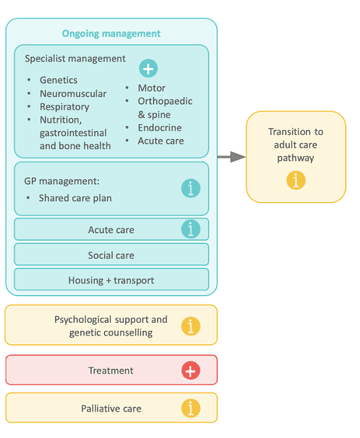 Fig 1: Close up of the 'ongoing management' section of the SMA paediatric pathway overview
With SMA, a variety of disciplines are required for both treatment and management. For example, nusinersen treatment requires input from a neuro-physiotherapist, neuropharmacist, nurse and consultant, and initiating a team approach combined with upskilling of physiotherapists in assessment can enable access to this treatment closer to home.
Supporting an infant or child with SMA within a local MDT service may seem daunting but it is essential to ensure consistent and continual improvement in their function, which in turn ensures access to the most impactful treatment available.
When we launched the first pathway, we spoke extensively to advocacy lead at SMA UK Portia Thorman, whose son Ezra lives with SMA (all detailed in our 'SMA in reality' series). She explained succinctly how important local multidisciplinary support is:
'Unless Ezra can get stronger, other opportunities are taken away. He can only have a superlight wheelchair if he can wheel himself. But he can't learn to wheel himself without practice, and he can't learn in a heavier chair because that's too hard for him to start out with.
That's what we need from our local healthcare team - help to start Ezra on a positive upward spiral, and to help him stay on it.'

Transition services
An established multidisciplinary approach can make a significant difference to how transition to adult services is experienced by those living with SMA.

'In young people with chronic disabilities like SMA, the transition from paediatric to adult care is often difficult if structured and supportive transition programmes are not in place. The transition to adult care is often described as 'challenging and scary'.
SMA paediatric pathway, p30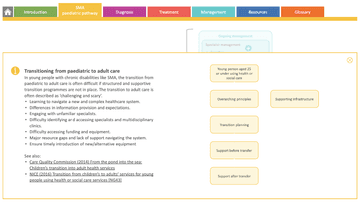 Fig 2: Transitioning from paediatric to adult care, SMA paediatric pathway, p30
'These service transitions often coincide with a broader change in someone's overall stage of life.... Such transitions also affect family carers who will commonly experience considerable changes in their personal circumstances and caring responsibilities.'
Transitions of care, SCIE, 2023
Some of the biggest challenges for teenagers and adults living with SMA in this new 'treatment era' are around age-appropriate care, integrated pathways, effective transition management and support systems to enable personal goals (Walter 2021).
Many of these elements can be improved through collaborative and multidisciplinary care, combined with small tweaks to clinical practice such as standardised referral pathways and proformas, or agreed protocols across service providers and departments.
If you are interested in learning more about SMA from infant through to adulthood and would like to begin addressing some of the issues people with SMA face in your locality, our new SMA MasterClass starting this September may be a good place to start.
This updated pathway is endorsed by SMA Reach UK and was supported by a grant from Roche Products Limited. Roche Products Limited has had no control over the content other than a factual accuracy check. The original 2021 version of the pathway was initiated with sponsorship from Biogen Idec Ltd. Biogen Idec Ltd has had no control over the educational content of this activity.
Related articles
Raising awareness, improving outcomes
Neuromuscular Academy is the first bespoke course for healthcare professionals to receive expert training in neuromuscular conditions like spinal muscular atrophy.