Updated and clinically tested: the new SMA paediatric pathway!
News
---
---
With the advent of so many new treatment options which can halt disease progression and enable people to regain motor and respiratory function, people with SMA can be supported to live their best life from any age.
This presents opportunities to improve care, from recognition and diagnosis to treatment and management - and in response to these opportunities, expert consensus clinical care pathways were developed for paediatric (2021) and adult (2022) care.
The paediatric pathway has now been tested in clinical practice and updated in response to a year of consultation with healthcare professionals. This version calls for earlier recognition within primary care and reflects the latest treatment additions, highlights current policy focus, and emphasises the importance of collaborative working across all departments and disciplines.

The update, which has been developed following consultation with healthcare practitioners for the past year, has been updated in line with feedback and the latest treatment options. It calls for earlier recognition within primary care, timely referral to diagnosis and swift access to treatment, as well as increased involvement of neurology multidisciplinary teams to provide symptom management and therapeutic treatment closer to home.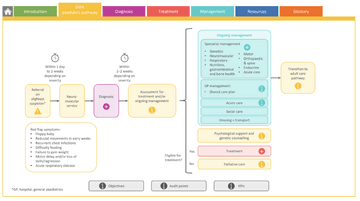 Overview of whole SMA paediatric pathway spanning primary, secondary, community and specialist input
Latest treatment options
Around 60% of SMA incidence is Type 1, presenting before 6 months of age and causing the most severe form of disability. However, ground-breaking treatments like gene therapy onasemnogene abeparvovec (zolgensma) can enable infants treated within the first year of life to reach normal functional milestones.
Meanwhile, both intrathecally-delivered nusinersen (spinraza) and orally-administered risdiplam (evrysdi) can enable significant improvements in motor function. All are mapped out on the newly updated pathway and supported with decision-making aids for clinicians to draw on.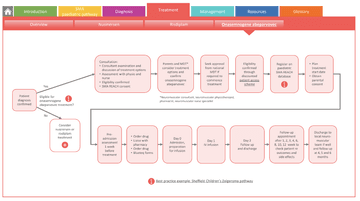 Treatment pathway for onasemnogene abeparvovec highlighting nusinersen and risdiplam for those uneligible
Focus on transitioning
Transitioning from paediatric to adult services can be challenging and is often a point in a person's journey with SMA where vital contact with specialist services may falter. The updated pathway sets out guidance and support to ensure a smooth transition process, in line with NICE guidance and priorities outlined both in the neurology GIRFT report (2021) and NHS England's neuroscience transformation programme*.

'In young people with chronic disabilities like SMA, the transition from paediatric to adult care is often difficult if structured and supportive transition programmes are not in place.
The transition to adult care is often described as 'challenging and scary'.'

p30 SMA paediatric pathway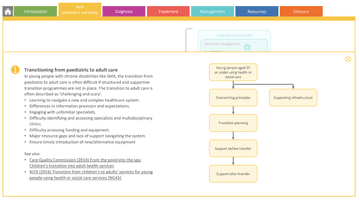 Transitioning from paediatric to adult services (p30 of pathway)
Further information around the pathway will follow over the next few weeks, and will look at:
the importance of SMA awareness in primary care to ensure early recognition and referral, to enable a swift diagnosis and access to treatment

the importance of collaborative working and the need for input from the whole neurology MDT to ensure effective ongoing treatment and management
For a deeper dive into the pathway, the treatments available, and supportive management, a webinar featuring paediatric neurologists Vasantha Gowda and Min Ong and senior specialist paediatric respiratory neuromuscular physiotherapist Lisa Edel is freely accessible via our website.
*A helpful summary of these areas of policy for neurology can be found here.
The neurosciences transformation programme is behind the neurology OPTIMAL clinical pathways developed, transforming elective care: neurology (2019), and the 'roadmap for integrating specialised commissioning (2022).

This updated pathway is endorsed by SMA Reach UK and was supported by a grant from Roche Products Limited. Roche Products Limited has had no control over the content other than a factual accuracy check. The original 2021 version of the pathway was initiated with sponsorship from Biogen Idec Ltd. Biogen Idec Ltd has had no control over the educational content of this activity.