Where pharmacists can support the SMA team in prescribing and monitoring treatments
Event reports
---
---
On 27th May, 60 healthcare professionals spanning commissioning, management, clinical work and the voluntary sector gathered to hone their understanding of neurology commissioning. Find our conference overview here or read on for a better understanding of commissioning in neurology!
Derek Weidner, Lead Neurology Pharmacist, provided a practical reflection of his teams' journey to provide new treatment for spinal muscular atrophy (SMA). He began with some background to SMA and the main treatment options available pharmaceutically - the intrathecally-delivered nusinersen and orally-given risdeplam. He shared the journey that his area took in becoming one of the twelve sites able to provide nusinersen, the steps they took and the hurdles they had to cross (fig 4).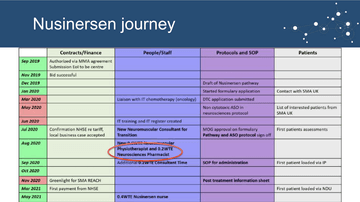 Figure 4: The various steps required to initiate access to nusinersen for people with SMA
Noting throughout the journey where, as a pharmacist, he had been able to support the process, he described discussions for partnership with other departments and the opportunity that this drug gave to the SMA service as a whole to recruit a dedicated physiotherapist and neurosciences pharmacist for the first time, and eventually, a dedicated nusinersen nurse (0.4 WTE).

The benefits of a pharmacist involvement from the start of the process included:
wider buy-in and interest from the pharmacy department,

overseeing the organisation, training and adherence required including maintaining the intrathecal register,

acting as a second checker to ensure each administration is delivered properly, which is required less now that there are more trained staff

prescribing, particularly when the consultant is unavailable

pharmacovigilance
Derek is also involved in supporting the use of risdiplam, which requires a slightly different role, including providing patient education around self-monitoring, what to do if a dose is badly responded to or causes vomiting, as well as the monitoring and blood work required to ensure doses are administered on time. He also helps to agree the best dosage with patients and their families, and manages complex patients who have comorbidities or multiple medications alongside secondary and primary care staff.

Related articles
Meet with strategic and operational colleagues in neurology
Join us for the Neurology Manager Network Meeting which will enable senior managers and directors in neurology services to update their knowledge on current neurology service delivery.