Winners announced for first Alzheimer's workplace project!
Event reports
---
---
Our first ever Alzheimer's-specific MasterClass, within Dementia Academy, met for module 2 last week and presented their projects - locally-based work that put into practice the learning of module 1.
The projects which were awarded first place and the two runner-up places covered different aspects of services along the spectrum of stages for someone with Alzheimer's, and were received enthusiastically by their colleagues and peers on the course.
Huge congratulations go to our winner, Dr Gregor Russell for his development of a pilot brain health service. Discovering that his project was far larger than he had initially expected when he first considered it, he set out to explore current models of NHS-based brain health clinics across the UK, establish connections with clinicians and academics already working in this area, and to develop a model for a similar service for the Bradford area. This model would form a pilot in order to gather local evidence and initiate ideas for research. His presentation and poster are both available online.
Runners up were the development of a memory assessment service by Dr Catherine Dolan, and a joint project by three delegates to audit the barriers to accessing memory assessment in the Cardiff area.
Catherine's work was based in Sligo, Northern Ireland, where she set out to establish a Memory assessment and support service (MASS) using John Kotter's 8 step change model (fig 1). Her poster available online alongside her presentation, maps her journey against these 8 steps, and she reports excellent progress with the integrated service expected to be piloted in the next quarter.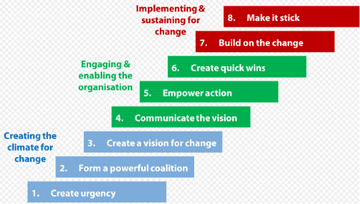 Kotter's 8 step change model (1996)
Drs Biju Mohamed, Cherry Shute and Tanvir Ahmed used a patent-facing questionnaire to gather data on the barriers to people accessing the memory assessment service (MAS) in Cardiff and Vale. They found an apparent underrepresentation of ethnic minority populations and that these patients experienced more barriers to access. Most individuals had waited more than six months from symptom onset to speak with a GP, whilst the pandemic had also had an impact on both presentation to GPs and further access to the MAS. However once accessed, most individuals were satisfied with the service.
As a result of their findings, the trio recommend establishing an education programme to improve awareness of cognitive problems and the MAS, targeting cultural and religious establishments to reach ethnic minorities more effectively. They also suggest establishing formal GP education sessions to improve recognition and early referral to MAS, and that the memory link worker's role is enhanced to provide better community support.
More information
Regarding Gregor's project, a previous Dementia Academy MasterClass prompted development of a national brain health blueprint model, and this is also available online for further information or support to others seeking to echo his project in their own area.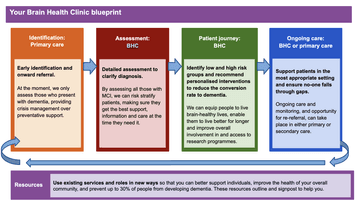 The Brain health clinic Blueprint overview
Regarding Biju, Cherry and Tanvir's findings, a project carried out by an MCI virtual course delegate in 2021 developed culturally-relevant education programmes for Asian populations around normalising health-seeking, and raising awareness of cognitive impairment and dementia, which can be found in our 'Education with Impact' publication: 'Quality improvement in Mild cognitive impairment: stories from around the UK'.
Our next Dementia MasterClass will run in October this year after a significant update to the course programme, which will feature compulsory workplace projects as part of the 2-module course for the first time. For more information about the course, or to apply, visit Dementia Academy.
Related articles
Promoting prevention, supporting management
Led by proactive clinicians determined to see improvement in the way we prevent, diagnose and manage dementias, Dementia Academy supports healthcare professionals with the latest tools, resources and courses to do just that.