Education on anticholinergic prescribing
---
By
Dr Nina Mohan, CT2 Psychiatry, NIMDTA: Southern Health and Social Care Trust
---
A quality improvement project conducted as part of the Dementia Academy 'Mild cognitive impairment virtual course' which ran from March-September 2021.
Background
Anticholinergic medications are prescribed to treat a variety of medical conditions including Parkinson's disease, allergies, Chronic Obstructive Pulmonary Disease, depression and urinary incontinence. One of the adverse effects of anticholinergic drugs is cognitive impairment and this can be exacerbated using multiple or strong anticholinergics - often referred to as a patient's anticholinergic burden. Older patients are more likely to have multiple comorbidities, and therefore to be on multiple medications. As the body ages, its ability to metabolise medications declines, and therefore older patients are more susceptible to the Anticholinergic burden of their medications.
Longitudinal studies have shown an association between the use of Anticholinergics and the risk of developing cognitive impairment and of death. More recent research also indicates that there is a dose-dependent association between long term use of Anticholinergics and the risk of developing dementia (Anticholinergic Burden Calculator).

Clinical Deficit
High level of referrals from GP practices and other specialties for people with mild or non-specific cognitive changes and borderline MMSE scores who were being referred with suspected MCI were frequently found to have a high anticholinergic burden.
This anecdotal observation was validated with evidence-base from an audit of all referrals to the memory service across a 1-year period from January 2020-January 2021. The audit assessed all patient's medications and associated anticholinergic burden.
Aims of intervention
To reduce the prescription of anticholinergic medications by 30% at the time of patient referral to the memory service, thereby reducing overall MCI referrals to the service.
Methodology
A letter was sent to all GP practices across the Trust advising them of the current guidelines regarding anticholinergic burden and its association with cognitive impairment.

After a 3-month period, the same audit of referrals to the memory service assessing their medication prescribed and its associated anticholinergic burden, was conducted (103 referrals from 01.07-01.08.21)
Outcomes
When reviewing the audit data side by side, there was very little change in the prescriptions for referrals:
There was a slight reduction in the prescriptions for amitriptyline (14%), fesoterodine (3%), co-codamol (10%) and diazepam (5%)

There was an increase in prescriptions for quetiapine (25%), solifenacin (5%), risperidone (10%).
This did not meet the 30% reduction in anticholinergic prescriptions hoped for.
However, this was the first cycle of information to GPs.
Next steps include:
Adding a prompt to the online referrals system to the memory service for the GP to use the ACB calculator at the time of referral

Re-auditing again at that point.
More Dementia Academy Education Projects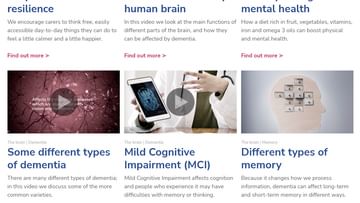 Promoting prevention, supporting management
Led by proactive clinicians determined to see improvement in the way we prevent, diagnose and manage dementias, Dementia Academy supports healthcare professionals with the latest tools, resources and courses to do just that.