Event
How to prepare in the event of you getting Covid-19
---
29 Apr 2020

•

16:15 - 17:15
---
Please note the questions have been anonymised to prevent individuals who asked the question from being identified and the advice is meant to be generic. The answers given are the speaker's personal opinion at the time of recording. Due to the everchanging situation, advice given at the time of recording is subject to change. The answers to the questions are not meant to replace the advice of your own medical team, but are meant to help support the wider MS community in these extraordinary times. All session and slide content are the views of the speakers, not the MS Academy.
Summary

Overview:
There has been a very positive outcome from 'prehabilitation' before an operation: a preventative strength-training style programme designed to prevent injuries before they can occur (3.20).
We know that a large number of our population will be infected with coronavirus in an effort to develop herd immunity, and so preparing our bodies and minds to experience that is key to managing that.
This webinar will look at the modifiable risk factors for severe COVID-19 and consider ways of reducing personal risk.
Risk factors in severe COVID-19 and mortality
Gavin gave an update on those who are at a greater risk of developing severe coronavirus and / or being at risk of mortality from it (fig 1):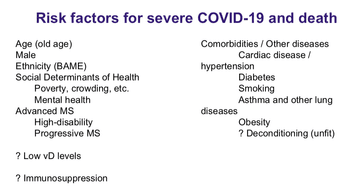 Figure 1: risk factors for experiencing severe COVID-19 and for mortality from it
Of note was:
60% of deaths have been in males compared to females;
There is an ethnic component – those of African and Asian descent seem at higher risk;
American data is finding clear signs of a higher risk in lower socio-economic groups, and those with mental health problems, with data from the two being difficult to separate out;
Early Italian data suggests that those with advanced MS or a higher level of disability are at higher risk (5.08) but it is hard to disentangle this from those who are older, however.
Lower vitamin D levels seem to correlate with severity of COVID-19 but it is unclear whether coronavirus lowers vitamin D levels or whether having lower levels increases the severity of the virus.
Immunosuppression has been thought to increase risk, but recent data suggests that lower immune systems may be at lower risk.
Getting medical help as and when you need it (6.50)
It looks like this is a virus which will be with us into 2021 and beyond and so we cannot accept an 'on hold' status for treatments, and we need to consider the modifiable risk factors to ensure a reduced severity of the virus in those who experience it.
Gavin reported his personal experience working in general medicine, noting the empty beds as COVID-19 patients ease and general medical problems are not being addressed. It seems that the general community are ignoring other medical conditions and it is likely that MS communities are too.

If you have active MS, you need to be seen and treated.
If you have a relapse, you need to tell your MS team and get support.
If you have a bladder or bowel infection, you need to seek treatment.

We need to push the NHS for treating medical conditions, not just fire-fighting COVID-19.
Lower impact modifications (8.59)
Vitamin D levels can be increased through sunshine and diet but we are limited in our time outside and we know that many food groups are lower in vitamin D than they used to be and so taking supplements is the only way to increase your levels in the current climate.
It has been recommended to those who are immunosuppressed that they shield, but advice is variable around the country so please contact your local MS team.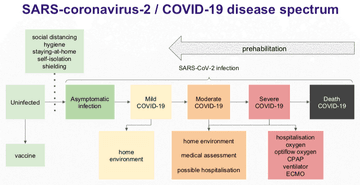 Figure 2: WHO definition of coronavirus – SARS COV2 is the virus which can cause COVID-19 disease
The difference between coronavirus and COVID-19
Gavin clarified the difference between SARS-coronavirus-2 (SARS-CoV2) and COVID-19, the former being the virus, and the latter being the disease experienced by some who are infected (10.24).
Around 25% (Arons et al. 2020) – 45% seem to be asymptomatic, in that they are infected with the virus but do not contract the disease. The correlation seems to be that the younger you are, the more likelihood of being asymptomatic.
Gavin talked through the 'traffic light' scale of what to do if you develop COVID-19 as a result of the virus, at each level of severity (10.58).
'Prehabilitation' for COVID-19 is to move an individual down the spectrum of disease, to reduce the likelihood of death or severe COVID-19 to mild-moderate (14.03).
Managing our mental health
George shared some ideas on how to manage our mental health during the pandemic (19.02).
(MS Academy held two webinars on this subject earlier in the month and information can be found online.)
It is completely normal to feel distressed at the moment.
It's important to be kind to yourself,
Distraction is important to stop the never-ending newscycle,
Have a daily routine,
Look after your body,
Stay connected digitally.
Use the resources out there – acceptance and commitment therapy and mindfulness can be really helpful and there are a lot of online resources for these.
Jody added the need to be gentle to yourself regarding exercise as well as mental health. She talked about managing your expectations and doing a little bit of something rather than falling into a 'boom and bust' cycle (20.52). She said: 'I have a passion for movement rather than exercise; finding something that you enjoy and that gets you moving' (22.07).
Managing comorbidities
Self-monitoring:
Megan noted that at the moment we all need to take more responsibility for our own health and that if we are able to monitor ourselves and highlight any concerns to health professionals before they become problems, that is positive (24.06). However, you need to have a plan of what to do with your figures if you are choosing to monitor yourself.
If you already have diabetes, it is important to keep monitoring yourself and ensure your glucose levels are within the ideal range. If your levels are going out of sync, alert your health professional.
If you are concerned that you might be developing diabetes then raise this with your GP.
You can purchase a blood sugar monitor via pharmacists if needed.
Weight and diet:
In terms of managing weight, Jody noted that having a balanced diet is important.
George added that managing weight is harder whilst people are confined to their homes, and that comfort eating is on the rise (28.18).
Gavin added that cutting down on processed and ultra-processed foods and focussing on 'real' foods is important.
He noted that following specific diets can cut out some nutrients and to try to address any deficiencies as far as possible (29.28). For example following a plant-based diet can make you deficient in zinc, which can be easily corrected with an inexpensive zinc supplement.
Ethnicity and susceptibility to COVID-19 (30.02):
Megan noted that whilst we are aware it is happening, it isn't clear why yet.
Gavin shared practical comments, stating that there is nothing that can be done about a person's ethnicity so instead to focus on the areas that can be changed to make a difference in health outcomes for COVID-19.
Smoking cessation (30.44):
Megan responded noting the resources available, including online resource OneYou. Pharmacists are available and can help with information and products that can help.
Practical advice included:

picking a date to quit,
tell people to help keep you accountable, find a 'buddy' to talk to when you need to distract yourself from your cravings; thinking about why you want to give up

We know that "smoking is most likely associated with negative progression and adverse outcomes of COVID-19." according to a recent review of 5 studies (Vardavas 2020) expanded on by Berlin (2020).
Gavin shared that air pollution is a risk factor in respiratory problems including those associated with COVID-19 so using e-cigarettes and vaping as a step down from cigarettes may not be an ideal choice right now.
You can see your GP via a telephone appointment to discuss nicotine replacement options.
Things to think about in preparation for potential hospitalisation from COVID-19 (33.32)
George discussed some practical measures to take in readiness of needing to be hospitalised:
Packing a bag and preparing for being isolated, taking things to stay occupied, battery packs, reading material, and forms of communicating as well as making sure you have daily contact with someone established.
He shared that whilst many of those with MS will recover from hospitalisation, being prepared for an impact on your MS, like an increase in fatigue and the time taken for recovery, is really important.
Gavin added that Chinese data suggests that recovery can take weeks and require a rehab programme to help the lungs to repair (35.25).
In the event of hospitalisation with severe MS, where there are concerns over the triage system, access to a ventilator, and how to mitigated against this (36.02)
Megan shared that at present, there have been sufficient ventilators and there hasn't been a need to triage people based on ventilators over individual need.
Regardless of whether we have MS or not, Megan highlighted that there is an opportunity to think about advance care planning and wishes for end of life, regardless of how far away that might be.
Two key documents to consider –

Advanced care directive / living will – a legal document to list the sorts of treatment that you might want to refuse
Advanced care statement setting out the care you would want if you were seriously ill or approaching the end of life.

If you create them send a copy to your GP and MS team to ensure they are known about
Make a folder to keep copies of any relevant documents like these, lasting power of attorney or health advocate details, lists of medications you are taking, contact details for your MS team etc to put with a hospital bag in the event that you are hospitalised.
Jody gave a case study and noted that if you wish to be ventilated then make sure it is stated clearly alongside contact details of health professionals as she was directly contacted to discuss a patient's wishes when they were admitted recently (38.59).
Gavin urged people to contact their GPs to get this information sorted in the coming weeks or months rather than needing to address it once you are already ill (40.11).
Taking care of your lungs (40.34)
Jody talked about breathing exercises that can be done to help strengthen the lungs that she has done in a ten minute video for people to follow.
Jody described in detail two specific exercises that can be done to stretch the alveoli at the end of lungs and improve the health of the lungs, explaining why this is important (41.20).
The importance of prehabilitation (51.08)
Gavin reiterated that the point of lockdown is not to protect us from contracting coronavirus but to flatten the curve of the volume of people contracting it at any given time, in order to protect the NHS. We need to start accepting that we will contract this infection, and to think about what we can do personally to mitigate the risks when we do, to prehabilitate.
Measuring your oxygen saturation at home (53.37)
Gavin has recommended that if you have COVID-19 and you live alone you buy a pulse oximeter to monitor yourself as a precaution, if you feel you may have symptoms of COVID-19. You may lose the ability to monitor yourself and to identify that you need to go to hospital.
Jody added that monitoring your baseline levels can be good, and that if anyone has the ability to monitor their lung capacity with a Peak Expiratory Flow Meter (PEFM) that would also be positive (PEFMs are cheaper than pulse oximeters) (55.05).
Useful links
Were you registered on this course?
Log in to access resources..
Login
Our sponsor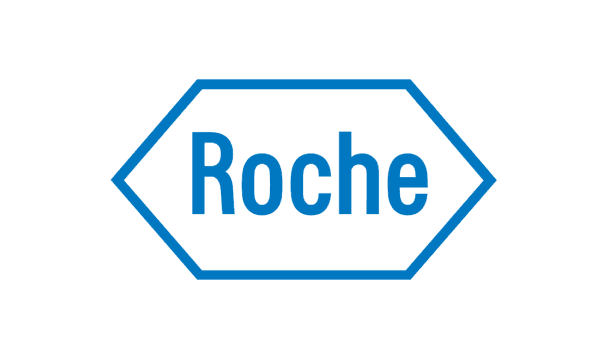 This activity has been supported by sponsorship from and Roche. The sponsor has had no control over the educational content of this activity.
Encouraging excellence, developing leaders, inspiring change
MS Academy was established five years ago and in that time has accomplished a huge amount. The six different levels of specialist MS training are dedicated to case-based learning and practical application of cutting edge research. Home to national programme Raising the Bar and the fantastic workstream content it is producing, this is an exciting Academy to belong to.