An Exploration of a Therapy Teams' Understanding of Fatigue and its Management in People with Multiple Sclerosis
---
By
Singhamati Hannah, Physiotherapist, Solihull Adult Neuro Team, University Hospitals of Birmingham NHS Trust
---
Introduction
Prevalence of fatigue in people with Multiple Sclerosis (pwMS) is as high as 70-90% and it is thought to be the leading cause of disability in people with early relapsing remitting MS(1). Fatigue is also associated with poorer quality of life in pwMS even when controlling for disease severity(2) and is the most cited reason for stopping work early(3).
Our service offers physiotherapy and occupational therapy in the community or as an outpatient to people with a wide range of neurological conditions in our catchment area. Despite the prevalence of fatigue in pwMS and its high impact, as a service we do not currently offer any courses or groups to support pwMS specifically with their fatigue. Any fatigue management is offered within our one to one therapy sessions.
Objective
In this project I set out to explore with the team their current understanding and management of fatigue in pwMS, in order to identify any gaps in knowledge and clarify the next steps for developing our service to best support pwMS living with fatigue.
I asked our qualified therapists, three physiotherapists and three occupational therapists, to complete a questionnaire and undertake a short semi-structured interview with me.
Key Findings
When asked to rate their theoretical understand of fatigue in MS; their confidence in fatigue management and their skills in fatigue management as poor, acceptable, good or excellent: 5 out of 6 therapists evaluated themselves as acceptable in all three categories, with one therapist evaluating themself as good.
When asked if they signposted pwMS with fatigue to written, online or other services two of the six therapists did this regularly, two sometimes and two rarely. The therapists that rarely signposted pwMS were unable to identify the resources available to assist pwMS living with fatigue.
When asked about specific training to develop their understanding of fatigue and its management in pwMS none of the therapists had undergone any training and all felt they would benefit from further training. Specifically they felt they would benefit from training in both the theoretical background of fatigue in pwMS and its management, including current evidence base for treatment approaches.
Conclusions
It was clear from the findings that there is a need for further training to improve our understanding, confidence and skills in fatigue management for pwMS. In response we are planning for one or two team members to undergo specific training and then go on to:
Cascade knowledge and skills to the rest of the team through our in-service training programme
Gather and disseminated written, online or other local resources for the team to use when offering fatigue management and where relevant develop our own resources.
Offer fatigue management groups or courses to pwMS in our service.
This project has enabled us to explore current practice, highlight gaps in knowledge and skills and put a plan in place to develop our service to better support pwMS.
References
Carter J, Fatigue in Patients with Multiple Sclerosis, Practical Neurology, 2018, 42-46
Harrison et al., Which exercise and behavioural interventions show most promise for treating fatigue in multiple sclerosis? A network meta-analysis. Multiple Sclerosis Journal, 2021, 1-22. https://doi.org/10.1177%2F1352...;
Kobelt, G, Langdon, D, Jönsson, L. The effect of self-assessed fatigue and subjective cognitive impairment on work capacity: The case of multiple sclerosis. Multiple Sclerosis 2019; 25(5): 740–749.
More MS Academy Comprehensive care Projects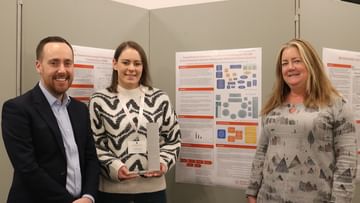 Encouraging excellence, developing leaders, inspiring change
MS Academy was established five years ago and in that time has accomplished a huge amount. The six different levels of specialist MS training are dedicated to case-based learning and practical application of cutting edge research. Home to national programme Raising the Bar and the fantastic workstream content it is producing, this is an exciting Academy to belong to.