Exploration of acute therapy team's knowledge of Multiple Sclerosis (MS), specifically fatigue in people with MS (PwMS) and their consideration for this during rehab within the acute setting
---
By
Rachael Kennon, Specialist Neuro-Physiotherapist, North Cumbria Integrated Care NHS Foundation Trust
---
Project write up
Developing knowledge about fatigue during the Multiple Sclerosis (MS) Foundations Masterclass and completing further reading on fatigue has motivated me to the focus my project on exploring the knowledge our physiotherapy team has on fatigue in people with MS (PwMS), and their consideration for this during rehab within the acute setting. The aim was to establish the level of knowledge within our team and if they felt further training would aid their knowledge.
Initially I utilised data for our trust of the people admitted with MS as a condition during February 2021 and January 2022. This highlighted the number of patients with MS within the acute setting who may require rehab from our acute physiotherapist team. The number was reasonably small however, highlighted that there is potential that our team may rehab PwMS. The most common reason for admission for non-elective cases was urinary issues. As infections and pain are causes for additional fatigue in PwMS, this highlights the need for awareness by staff within the acute setting.
To establish the level of knowledge, a brief questionnaire was created and forwarded to all members of the acute physiotherapy team. The key findings have been discussed in the poster. The findings highlight that all respondents recognised training would be beneficial, with many commenting on the need for resources for staff and how having awareness of fatigue in PwMS may decrease some risks, such as inpatient falls, through better management of fatigue within the acute environment.
The project has been beneficial, prompting a service improvement in the form of teaching and resource provision for our physiotherapy team on MS, fatigue in PwMS and how it may be considered in acute rehab to build staff confidence in their knowledge and implement it in their role.

More MS Academy Comprehensive care Projects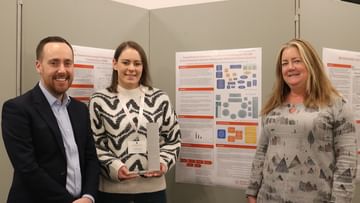 Encouraging excellence, developing leaders, inspiring change
MS Academy was established five years ago and in that time has accomplished a huge amount. The six different levels of specialist MS training are dedicated to case-based learning and practical application of cutting edge research. Home to national programme Raising the Bar and the fantastic workstream content it is producing, this is an exciting Academy to belong to.