JCV in Jersey
---
By
Dr Jessica Vaz, Associate Specialist, Jersey General Hospital
---
Dr Jessica Vaz with Prof Gavin Giovannoni, 2018
MasterClass 3, 2018
Jersey is an island in the English Channel. The whole island is just five miles long and nine miles wide and is made up of 12 parishes, with the capital city being St Helier. It sits just 19 miles off the French coast and is also 85 miles from the south coast of England. Jersey is officially a British Crown Dependency that forms part of the British Isles.
Jersey General Hospital is the main hospital in Jersey which caters for about 100,000 population. It has a small Neurology department with 2 Senior doctors and 2 Junior doctors, 1 MS specialist nurse, 1 CNS for General Neurology, 1HCA. Our current patient population for the Neurology department are about 3000 patients.
We have a shared ward for inpatients with General Medicine, 1 Rehabilitation ward and 1 shared Medical Day Unit for our infusions. We also have reciprocal arrangements with London and Southampton for more disease specific specialist opinion and tests if felt appropriate.
The Multiple Sclerosis patient cohort is about 200, out of which the majority are in the remitting relapsing category. We have a dedicated MS specialist nurse led clinic about twice a week and MS clinic about once a week.
65 patients are on monthly Tysabri infusions and attend our Medical day unit. Among the 65, about 15 patients have a high index value of 1.5 and above.
The JCV Antibody tests were conducted between Feb 2012 and May 2018
The tests were conducted by Stratify, and were paid for by the pharmaceutical company Biogen, with no costs to the Hospital other than the Phlebotomy services to collect the blood sample. The sample materials and the courier costs are paid by the company.
There are no restrictions on number of patients who can benefit from these tests or how often each patient can avail of these tests. The patients are not required to be on the company product to avail of this test. The tests are usually conducted at 6-month interval, subject to patient compliance.
There were in total 315 samples sent for testing
15 samples were not tested due to various procedural errors
Of the remaining 300 samples
187 were reported as negative for the JCV virus antibody
113 were reported as positive for the JCV virus antibody
The 300 samples represented 87 unique patients. Of the 87 unique patients
56 patients were reported to be positive for the JCV virus antibody (64%)
31 patients were reported to be negative for the JCV virus antibody (36%)
The 56 positive patients include 9 patients who converted from JCV antibody negative to JCV antibody positive
35 patients were male (40%) and
52 patients were female (60%)
Only 1 patient was under 30 years of age (<1%), 55 patients were between 30 and 50 years of age (63%), 31 patients were over the age of 50 years (36%)
The sole patient under 30 years of age was female and was positive for the JCV antibody
Of the 55 patients between the ages of 30 years and 50 years; 20 were male (36%) and 35 were female (64%)
of the 20 male patients, 11 were positive (55%) and 9 (45%) were negative
of the 35 female patients, 26 were positive (75%) and 9 were negative (25%)
Of the 31 patients above the age of 50 years, 15 were male (48%) and 16 were female (52%)
of the 15 male patients, 8 were positive (53%) and 7 were negative (47%)
of the 16 female patients, 10 were positive (62.5%) and 6 were negative (37.5%)
Infection by the JC virus (JCV) is required for the development of PML. Anti-JCV antibody negative status indicates that exposure to the JC virus has not been detected. Patients who are anti-JCV antibody negative have a lower risk of PML than those who are positive. Patients who are anti-JCV antibody negative are still at risk for the development of PML due to the potential for a new JCV infection, or a false negative test result.
Anti-JCV antibody testing should not be used to diagnose PML.
Three factors that are known to increase the risk of PML in TYSABRI-treated patients have been identified:
Longer treatment duration, especially beyond 2 years. There is limited experience in patients who have received more than 6 years of TYSABRI treatment
Prior treatment with an immunosuppressant (e.g., mitoxantrone, azathioprine, methotrexate, cyclophosphamide, mycophenolate mofetil)
The presence of anti-JCV antibodies. Patients who are anti-JCV antibody positive have a higher risk for developing PML
The reported rate of seroconversion in patients with MS (changing from anti-JCV antibody negative to positive) is 3 to 8 percent annually. In addition, some patients' serostatus may change intermittently. Therefore, patients with a negative anti- JCV antibody test result should be retested periodically.
For purposes of risk assessment, a patient with a positive anti-JCV antibody test at any time is considered anti-JCV antibody positive regardless of the results of any prior or subsequent anti-JCV antibody testing. When assessed, anti-JCV antibody status should be determined using an analytically and clinically validated immunoassay.
Anti-JCV antibody testing should not be performed for at least two weeks following plasma exchange due to the removal of antibodies from the serum
MRI findings may be apparent before clinical signs or symptoms suggestive of PML.
Requirements (Aims, Methods, Outcomes)
To run a dedicated high titre clinic for RRMS on Tysabri with high index values
Risk Calculator – to calculate the PML risk
PML education – discussion for patient awareness and early detection of symptoms
Set up fast track MRI scans in liaison with Radiology department
Liaised with our Virology lab / Unilabs to set up CSF JCV DNA testing
Set up early appointments for OTC scans in liaison with Ophthalmology – for Gilenya
Liaise with Clinical investigations for early cardiac monitoring – for Gilenya
Dedicated phlebotomy service for blood monitoring
New clinics introduced, 15 patients with high index value of 1.5 and above were seen, PML risk with current index values calculated, CNS examination with EDSS scoring done.
PML symptoms and signs discussed with patients, especially to help with early detection and risk of disability and death. Patients had MRI Brain with GAD and Lumbar puncture for CSF JCV DNA – look for asymptomatic PML
Treatment option of bridging from low efficacy [ DMF, Aubagio, Gilenya] treatment to high efficacy [Alemtuzumab] discussed
13 patients decided to go for the above option choosing Gilenya. Washout period of 8-12 weeks advised. 2 had mild relapses needing oral steroids with complete recovery.
2 patients decided to continue with Tysabri, despite the risks. A written consent obtained. The extended dosing of 5-6 weeks infusion discussed and agreed.
TYSABRI PRE-INFUSION PATIENT CHECKLIST
Recommendations
When starting treatment with Tysabri, patients and carers will continue to be advised about the risk of PML.
Before starting treatment, a baseline MRI should be available (usually within 3 months) and baseline anti-JCV antibody test for PML risk stratification. Tysabri, patients monitored at regular intervals with a neurological examination and a full brain MRI once a year
Patients at higher risk of PML, more frequent MRIs (e.g. every 3-6 months) using an abbreviated protocol (e.g. FLAIR, T2-weighted and DW imaging) to be considered. If PML is suspected, the MRI include contrast-enhanced T1-weighted and CSF for the presence of JC virus DNA. If PML is suspected at any time, treatment with Tysabri must be stopped until PML has been excluded.
Anti-JC virus antibody testing should be done every 6 months in antibody-negative patients. Patients who have low index values should also be retested every 6 months once they reach the 2-year treatment point.
After 2 years of treatment, patients should be informed again about the risk of PML with Tysabri. Continue to be vigilant about the risk of PML for up to 6 months following discontinuation of Tysabri.
More MS Academy Medication Projects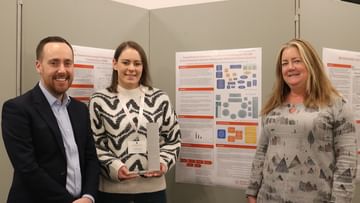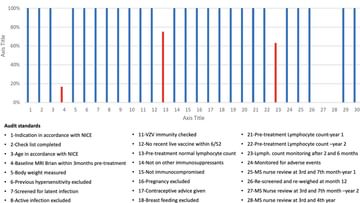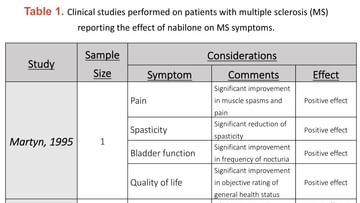 Encouraging excellence, developing leaders, inspiring change
MS Academy was established five years ago and in that time has accomplished a huge amount. The six different levels of specialist MS training are dedicated to case-based learning and practical application of cutting edge research. Home to national programme Raising the Bar and the fantastic workstream content it is producing, this is an exciting Academy to belong to.