Patient perceptions and opinion on switching route of administration from intravenous natalizumab to subcutaneous natalizumab: supporting patients to make decisions
---
By
Niamh Gormley, Lead Pharmacist Multiple Sclerosis, Belfast Health and Social Care Trust
---
Project write up
Natalizumab has been widely used as a 4-weekly intravenous infusion throughout the UK since marketing for the treatment of relapsing-remitting multiple sclerosis. In 2021, a new subcutaneous formulation of natalizumab was released which may have the potential to reduce the time patients spend at infusion clinic appointments, which in turn could allow an increased number of patients to access treatment. Trials have demonstrated that the subcutaneous formulation is equally efficacious as the intravenous infusion with a similar side effect profile.
The aim of this work stream was to determine patient perceptions and opinion on switching route of administration of natalizumab.
Initially, the MS pharmacist worked in partnership with MS infusion nurses to develop a data collection tool, which would allow us to determine the length of time patients attend clinic for administration of intravenous natalizumab. A data collection tool was developed and used to record information for each patient and results summarised by MS pharmacist.
Secondly, a patient survey was developed to gather patient perceptions and opinion on the use of natalizumab and whether they would consider a switch from their current intravenous infusion. The survey was provided to patients over a 4-week period and completed surveys returned to MS pharmacist for analysis.
Results have shown that on average patients attend hospital for 148 minutes to receive intravenous natalizumab. 66 patients were included in this data collection process, and 9 of these patients (13.6%) had an unexpected delay due to IV access. This would therefore demonstrate an advantage in using subcutaneous formulation in a cohort of patients where IV access is difficult.
The patient survey was completed by 39 patients and results summarised by MS pharmacist. Two-thirds of patients (66.7%) reported that they would consider a change in their treatment from IV to SC natalizumab. 60.5% of patients had no concerns about changing formulation and 39.5% had some concerns, which are summarised in the list below:
How effective is SC compared to the IV route?

MS/ Relapse control

Needle Phobia

If changed to SC route and it did not suit can they revert back to IV without delay?

Previous site reactions with other injectable agents

Side effects
Patients reported that information leaflets and discussion with their consultant neurologist at their next review appointment would be the most beneficial methods to help them make an informed decision to change formulation.
The main motivation for patients to change from IV to SC natalizumab was the potential time saving of administration, which was reported by 27 patients out of the 39 patients who completed the survey. Avoidance of IV cannulation was documented as the main reason for opting to change formulation by 18 out of the 39 patients, 1 patient stated convenience would be their main motivation to change, 4 patients stated time saving and avoidance of cannulation and 1 patient did not respond.
Results have shown that with support and information, patients could confidently make the decision to change formulation from IV to SC natalizumab. The information gathered from this project has allowed development of a patient information leaflet and consent form. Further work is required to quantify the time saving SC natalizumab provides within the infusion unit for both MS patients and nursing staff.

More MS Academy Medication Projects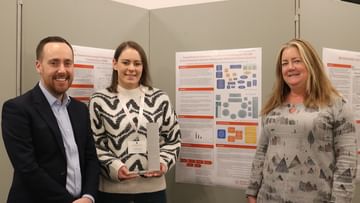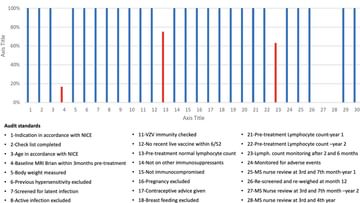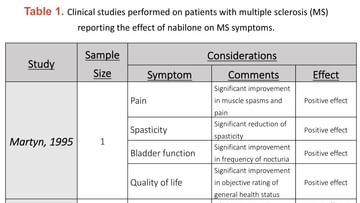 Encouraging excellence, developing leaders, inspiring change
MS Academy was established five years ago and in that time has accomplished a huge amount. The six different levels of specialist MS training are dedicated to case-based learning and practical application of cutting edge research. Home to national programme Raising the Bar and the fantastic workstream content it is producing, this is an exciting Academy to belong to.