Qualitative aspects of cognition in the LTHTR MS cohort & impact on treatment decisions; utility of MoCA in assessment of cognition in MS
---
By
Dr Claire Gall, Consultant Neurologist, Royal Preston Hospital
---
This project was the winner of the MS Academy MasterClass 5 Project Award 2019.
It is widely accepted that there is impairment of cognition in MS.. but what is the clinical relevance? Aside from the very significant practical impact for the patients it is very relevant when thinking about treatment decisions, consent/capacity especially in context of patients receiving high risk treatments for example PML risk with natalizumab and others, need for adherence to appointments, monitoring etc. Cognitive change may also be a presenting clinical feature in natalizumab-associated PML (Hunt/Giovannoni 2012, Scarpazza 2017); conversely improvement in cognition may be seen in treatment of MS (Lang et al 2012).
Our MS service based in Preston has seen severe pressures with loss of our MS specialist Neurologist, Consultant Neurologist shortage in general and the explosion of disease modifying treatments (DMTs) putting our specialist MS nurse team in particular under strain. The decision to perform Montreal Cognitive Assessments (MoCAs-a widely recognised screening tool for mild cognitive impairment-figure 1) as a cognitive baseline with regards to PML surveillance for patients undergoing natalizumab infusions was taken by the MS nurses themselves.
This tool was probably chosen as it is quick (about 10 minutes) and easy to administer & used by our PD specialist nurses within the department already. This has been performed in addition to the screening checklist that is completed prior to each natalizumab infusion (figure 2).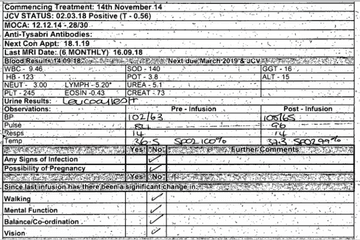 In addition the Moca is probably better for examining executive function than alternatives & also more sensitive or 'harder' than the MMSE or Addenbrooke's cognitive examination (ACE III) commonly used alternatives. It is easy to administer, palatable to patients & gives more qualitative information than the symbol digit modalities test (SDMT)/Paced Auditory Serial Addition Test (PASAT) which are brief cognitive instruments used in some MS trials. There is some information regarding the utility of MoCA as a screen for cognitive impairment in MS (Degenais 2013).
The LTHTR MS database was used to identify 83 patients currently or previously receiving natalizumab treatment within our department. Of these moca scores were available on the Electronic Patient Record for 72 patients. Scores ranged from 15 -30 (Score is out of 30 and the cut off for 'normal' is >/=26). Average score 25.7. Mode 28.5. Age range 18-69, average age 47.
There were 30 patients ( 41.7%) scoring below the cut off for cognitive impairment (ie scoring 25 or less). Of these the average age was 43 (range 18-69). Looking at the subsections of the MoCA, these scores were available for 27 patients (table 1).

Below cut off letter fluency seemed to be frequent. Patients with low scores were often observed to have frequent DNA letters on file.
Two patients had longitudinal data, one suggesting an improvement in score whilst on treatment. Another patient had a one point reduction in score and had been referred to Memory Assessment services (aged 56). One patient who recently developed PML had a normal score at baseline and the presentation was detected through radiology and physical signs, no cognitive symptoms were present at onset of disease.
In summary performing Mocas in our highly active relapsing remitting MS patients receiving natalizumab suggests a high prevalence of cognitive impairment which in some cases seems quite severe. It may be a useful tool for cognitive screening in patients with MS including those undergoing therapies associated with PML risk & may alert us to the need for more detailed consent & follow-up/monitoring as well as indicating some of the qualitative aspects of cognitive dysfunction to enable practical strategies to be employed.
Acknowledgements – Monica & MS nurse team, Anne-Marie MS team admin, Dr Rog for comments & mentorship
References
Degenais et al 2013 Value of MoCA as a screening Instrument in Multiple Sclerosis. Can J Neurol Sci 40:410-415.
Hunt & Giovannoni 2012 Natalizumab-associated PML: a practical approach to risk profiling and monitoring. Practical Neurology 12:25-35.
Lang et al 2012 Natalizumab may improve cognition and mood in MS. Eur Neurol 67:162-166.
Scarpazza et al 2017 The still under-investigated role of cognitive deficits in PML diagnosis. MS & Demyelinating Disorders 2:1.
More MS Academy Cognition Projects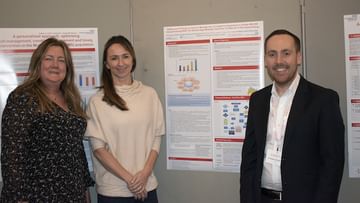 Encouraging excellence, developing leaders, inspiring change
MS Academy was established five years ago and in that time has accomplished a huge amount. The six different levels of specialist MS training are dedicated to case-based learning and practical application of cutting edge research. Home to national programme Raising the Bar and the fantastic workstream content it is producing, this is an exciting Academy to belong to.