A review of acute hospital admissions of people with Parkinson's during the first UK wave of COVID-19
---
By
Dr Kiri West, ST7 Geriatrics & GIM, Aintree University Hospital
---
Aim
A combination of COVD-19 redeployment and existing staff shortages let to the discontinuation of all PD outpatient clinics at the start of the pandemic. This service review compared acute admissions between March and June 2019 to those in the same period of 2020 in a bid to understand the impact of the move.
Headlines
People with PD and other causes of parkinsonism were adversely affected by the marked reduction in movement disorders service provision at Aintree University Hospital during the first wave of the COVID-19 pandemic.
While telephone support was available from the nearby Walton Centre, patients did not seem to seek or access this service.
Key findings
Fewer inpatients with PD or parkinsonism had a specialist review in 2020 compared to 2019
The proportion of patients reviewed by a member of the movement disorders team fell from 23.4% in 2019 to 8.5% in 2020
Patients waited longer for specialist review in 2020 compared to 2019
More PD-specific issues, such as missed medication doses, occurred in 2020 compared to 2019
The mean length of hospital stay increased from 14.8 days in 2019 to 15.7 days in 2020
The mean length of time from admission to specialist review increased from three days to 13.6 days. The median increased from 1.5 days to 13 days
There were more inpatient deaths in 2020 than in 2019
Recommendations
In any future wave of COVID-19, this data should provide evidence on why redeployment of PD specialist nurses should be avoided. However, if redeployment is necessary, all efforts should be made to communicate details on alternative specialist services to trust staff and patients.
More Parkinson's Academy Inpatient care Projects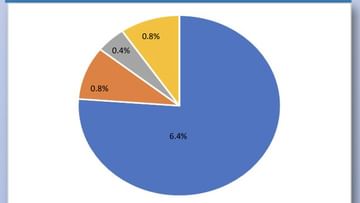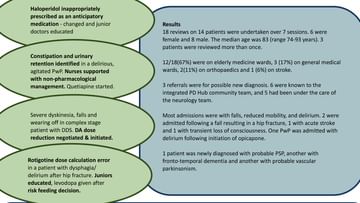 Parksafe QI Project
By
Dr Murudappa Bhattad, Consultant Care of the Elderly, Northern Health and Social Care Trust
'The things you can't get from the books'
Parkinson's Academy, our original and longest running Academy, houses 20 years of inspirational projects, resources, and evidence for improving outcomes for people with Parkinson's. Led by co-founder and educational director Dr Peter Fletcher, the Academy has a truly collegiate feel and prides itself on delivering 'the things you can't get from books' - a practical learning model which inspires all Neurology Academy courses.