Cutting Edge Science – Do we need to rethink imaging?
Event reports
---
---
In July this year, the Parkinson's Academy presented "Cutting Edge Science for Parkinson's Clinicians", an educational meeting sponsored by Bial Pharma UK Ltd. This one-day meeting was chaired by Dr Peter Fletcher and attended by a diverse audience of neurologists, care of the elderly physicians, psychiatrists and Parkinson's nurses. The meeting was a chance to review advances in the clinical understanding of Parkinson's and discuss how to build on these insights in routine clinical practice. Each week we are posting a blog to look at the day's speaker sessions in more detail.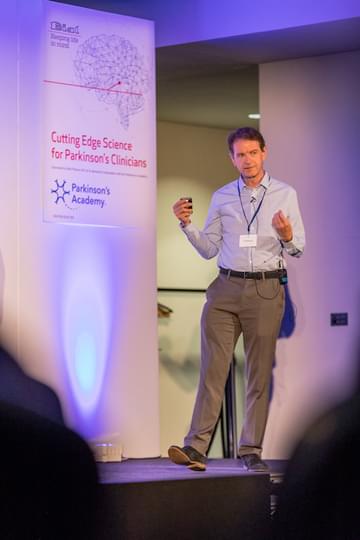 Moving onto imaging, Dr Donald Grosset (Queen Elizabeth University Hospital, Glasgow) called for HCPs working with people with Parkinson's to rethink how they use imaging within their clinical practice. Like genetics, the imaging field has taken big steps forward in recent decades, and Parkinson's services must consider how best to make use of these important tools.Dr Grosset reminded the audience that the diagnosis of Parkinson's remains primarily clinical. However, where there is uncertainty, presynaptic dopaminergic imaging may help with differential diagnosis. Currently, the main technique is FP-CIT SPECT, also known as DaTscanTM. Several UK centres now use DaTscan regularly, and Dr Grosset emphasised that the technology is best used when the clinical picture is incomplete, or where there are pointers to a possible alternative diagnosis, or dual pathology. DaTscan imaging differentiates between parkinsonian disorders with nigrostriatal dopamine degeneration (people with Parkinson's disease, progressive supranuclear palsy [PSP] and multiple system atrophy [MSA] will have an abnormal scan) and disorders without this distinctive pathology.1Misdiagnosis is an important issue, and even expert movement disorders clinicians make mistakes. In patients with a prominent tremor, DaTscan imaging can help differentiate between Parkinson's and essential tremor and, in patients with unusual asymmetric tremor, it can help differentiate between Parkinson's versus psychogenic parkinsonism.1 However, an abnormal scan will not clearly differentiate between Parkinson's and PSP or MSA. In the face of an abnormal DaTscan, clinicians should consider whether the patient's clinical presentation and pattern is typical of Parkinson's or another process. In some cases, structural imaging with MRI imaging may be helpful in identifying PSP (the hummingbird sign), MSA (hot cross bun sign), and Dr Grosset noted that perhaps the most promising diagnostic sign is the loss of the normal "swallow tail" nigrosomal pattern in the substantia nigra on axial imaging.2 It is also vital that clinicians understand that there are always exceptions to the rule. While people with the parkinsonian variant of MSA will typically show an abnormal scan, one in five people with the cerebellar form may have striatal binding ratios within the normal range.3 Likewise, the current threshold for detection on DaTscan means that a proportion of patients with very early Parkinson's may initially show a normal scan, but the patients later have an abnormal scan.4
Dr Grosset emphasised "We must be very cautious not to base all our decisions on a normal scan - especially if assessing a patient very early on… It is often useful to wait for a repeat scan."
Looking to the future, Dr Grosset described the advances being made in the imaging of amyloid, Tau and basal ganglia sonography. However, these currently remain research tools only and more work will be needed to incorporate them into clinical practice.
DaTscanTM in the differential diagnosis of movement disorders5
| Diseases typically showing an abnormal DaTscan | Diseases typically showing a normal DaTscan |
| --- | --- |
| Parkinson's disease | Essential tremor |
| Multiple system atrophy | Dystonic tremor |
| Progressive supranuclear palsy | Vascular parkinsonism |
| Corticobasal degeneration | Drug induced parkinsonism |
| | Psychogenic parkinsonism |
| | Alzheimer's disease |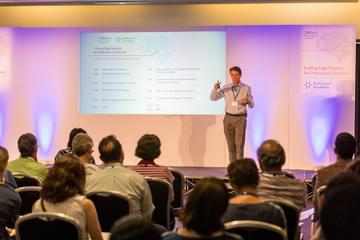 References:
Isaacson SH, Fisher S, Gupta F, et al. Clinical utility of DaTscan imaging in the evaluation of patients with parkinsonism: a US perspective. Expert Rev Neurother 2017;17(3):219-225.
Schwarz ST, Afzal M, Morgan PS, Bajaj N, Gowland PA, Auer DP. The 'swallow tail' appearance of the healthy nigrosome - a new accurate test of Parkinson's disease: a case-control and retrospective cross-sectional MRI study at 3T. PLoS One 2014;9(4):e93814.
Munoz E, Iranzo A, Rauek S, et al. Subclinical nigrostriatal dopaminergic denervation in the cerebellar subtype of multiple system atrophy (MSA-C). J Neurol 2011;258(12):2248-2253.
Nalls MA, McLean CY, Rick J, et al. Diagnosis of Parkinson's disease on the basis of clinical and genetic classification: a population-based modelling study. Lancet Neurol 2015;14(10):1002-1009.
Article by Anita Chadha-Patel
Related articles
'The things you can't get from the books'
Parkinson's Academy, our original and longest running Academy, houses 19 years of inspirational projects, resources, and evidence for improving outcomes for people with Parkinson's. Led by co-founder and educational director Dr Peter Fletcher, the Academy has a truly collegiate feel and prides itself on delivering 'the things you can't get from books' - a practical learning model which inspires all Neurology Academy courses.