Cutting Edge Science – Personalised medicine in Parkinson's: From theory to reality
Event reports
---
---
In July this year, the Parkinson's Academy presented "Cutting Edge Science for Parkinson's Clinicians", an educational meeting sponsored by Bial Pharma UK Ltd. This one-day meeting was chaired by Dr Peter Fletcher and attended by a diverse audience of neurologists, care of the elderly physicians, psychiatrists and Parkinson's nurses. The meeting was a chance to review advances in the clinical understanding of Parkinson's and discuss how to build on these insights in routine clinical practice. Each week we are posting a blog to look at the day's speaker sessions in more detail.
Professor K. Ray Chaudhuri began his presentation by arguing that despite tremendous progress in our understanding of Parkinson's, many challenges remain both in the short and long term. These largely relate to the changes in the modern definition of Parkinson's and how the condition is now regarded as a complex advancing disease with distinct syndromic presentations. Non-dopaminergic symptoms can dominate the clinical phenotype of Parkinson's and form the basis of the recently described non-motor subtypes of the condition.1, 2 This heterogeneity of neuropathology and diversity of presentation requires treatment tailored to suit the clinical phenotypes. Indeed, clinicians need to be aware that 'one size does NOT fit all' – consideration of specific personal needs and the clinical phenotype of patients before prescribing forms the basis of personalised medicine.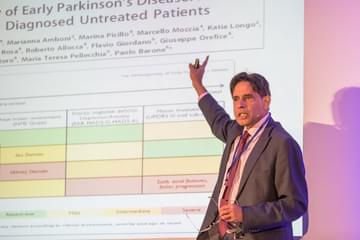 Professor Chaudhuri explained that the different non-motor subtypes arise from the various complex underlying pathologies of the 'Parkinson's syndrome' which often involve degeneration of non-dopaminergic pathways leading to the expression of a range of non-motor symptoms from the prodromal to the palliative stage of Parkinson's. Personalised medicine in these subtypes involves the treatment of specific non-motor symptoms and consideration of the non-motor side effects (such as sudden onset of sleep) of dopaminergic drugs. For example, if a patient has cholinergic involvement, it will be important to consider counselling regarding cognitive decline, anticholinesterase inhibitors and gait training. Likewise, patients with a mixed neurotransmitter presentations affecting sleep should consider avoiding agonists acting at D3 receptors (implicated in sudden onset sleep) and be given early advice on driving, working with machinery, swimming alone for example.3

"In Parkinson's, personalised medicine means prescribing based on the vulnerability of the patient to side effects… consideration of lifestyle, genetic framework, as well as personality and preferences."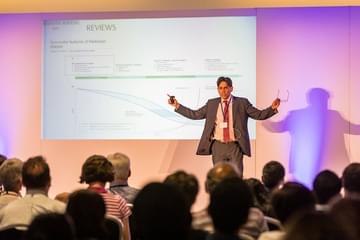 References:
Marras C, Chaudhuri KR. Nonmotor features of Parkinson's disease subtypes. Mov Disord 2016;31(8):1095-1102.
Sauerbier A, Jenner P, Todorova A, Chaudhuri KR. Non motor subtypes and Parkinson's disease. Parkinsonism Relat Disord 2016;22 Suppl 1:S41-46.
Titova N, Chaudhuri KR. Personalized medicine in Parkinson's disease: Time to be precise. Mov Disord 2017;32(8):1147-1154.
Article by Anita Chadha-Patel
Related articles
'The things you can't get from the books'
Parkinson's Academy, our original and longest running Academy, houses 19 years of inspirational projects, resources, and evidence for improving outcomes for people with Parkinson's. Led by co-founder and educational director Dr Peter Fletcher, the Academy has a truly collegiate feel and prides itself on delivering 'the things you can't get from books' - a practical learning model which inspires all Neurology Academy courses.