Diagnosis of atypical Parkinsonism
Event reports
---
---
Our Parkinson's Cutting Edge Science conference took place on 21st June 2023 at Birmingham Conference and Events Centre and was chaired by Prof Emily Henderson.
You can read an overview of the entire event here.
This write up is one of a series covering each session in detail for those who were unable to attend, or want to reflect on what they heard.
The event was sponsored by Bial Pharma. The sponsor had no input into the educational content of the meeting.
Dr Chris Kobylecki began the session by giving an overview of the different types of atypical Parkinsonisms, and highlighted the rapid progression of many of these conditions alongside the delay to accurate diagnosis that people with these conditions often face. Throughout the talk, Chris used short videos of patients to demonstrate the different symptoms he was discussing.
He began with a brief overview of the variety of conditions that 'atypical Parkinsonism' refers to, grouping them by their underlying pathology (figure 1).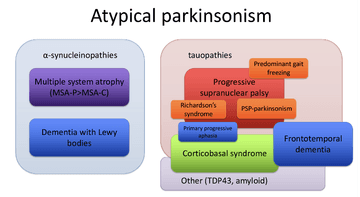 Fig 1: Chris's introductory slide on the different atypical Parkinsonisms
Chris shared some of the challenges of accurate diagnosis of multiple system atrophy (MSA) and crossovers with Lewy body disease, and the need to review red flags in cognition to determine between them. He highlighted different rates of progression as often one of the earliest indications that someone with a Parkinson's diagnosis may have an atypical presentation (Stefanova 2009; O'Sullivan 2008), and urged open-mindedness and assessment for red flag features as a person's condition progresses.
Chris talked through the new criteria for MSA and gave examples from his own clinic to demonstrate these. The new criteria were published last year (Wenning 2022) and key changes include specificity around types of urinary incontinence and the need for two clinical markers and one MRI marker to make a confident diagnosis. Chris discussed other 'red flags' such as early speech problems and rapid motor deterioration, and showed some of the key imaging features to watch for.
Exclusion criteria do include where someone has a sustained beneficial response to dopaminergic medications; however Chris reported that some people with MSA can respond positively for the first few years, and encouraged the conference to keep an open mind regarding the given diagnosis and to always watch for possible red flags (Wenning 2013; Martin 2020). Cognitive impairment is another exclusion criteria; Chris noted that this refers to early disease and that later on, people with MSA can experience cognitive difficulties and dementia. (Where someone appears to be presenting with MSA but with cognitive decline, Chris suggested it may be dementia with Lewy bodies or PSP.)

Prodromal criteria are also included in the new diagnostic criteria for MSA and whilst not yet clinically validated, the diagnostic criteria itself has been validated in two studies (Virameteekul 2023; Zhang 2023). He did however, note the value of these prodromal criteria (figure 2) and suggested they offer an opportunity to reach out to colleagues in sleep disorder clinics and in urology to identify people with early symptoms and to validate these criteria.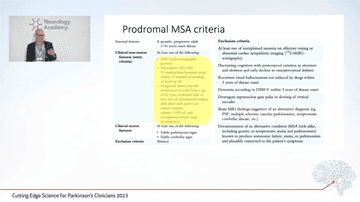 Figure 2: Prodromal MSA criteria
Chris discussed supportive biomarkers for MSA, including FTG PET to detect hypometabolism, MIBG-SPECT, sphincter EMG for sphincter dysfunction, the presence of REM sleep behaviour disorder (Schenk 2015), increased neurofilament light chain markers, and the presence of folded alpha-synuclein are all helpful pieces of information to put towards a clinical diagnosis.
There is significant ongoing research into disease-modifying treatments for MSA (Sideroff 2022 and Chris depicted the complexities of mechanisms thought to be involved in the progression of MSA, many of which are being studied at present although several studies have failed, all have shown the potential to carry out large-scale trials in a relatively rare condition (Poewe 2022). However, some studies seem favourable; ubiquinol found some improvement in the UMSARS (MSA rating scale) and in quality of life (Mitsui 2023), whilst ATH434 (Finklestein 2022; Heras-Garvin 2021) and exenatide (Athauda 2017) are undergoing phase 2 trials in the UK.
Chris then discussed progressive supranuclear palsy (PSP) and the broadening understanding of this over the past two decades to enable other clinical phenotypes , including PSP with predominant gait freeze, PSP with Parkinsonism, PSP with speech and language difficulties (Jabbari 2019; Jabbari et al 2020).These variants, Chris explained, may progress to the more typical Richardson PSP syndrome, or may have a different disease progression. He highlighted the updated diagnostic criteria for PSP across several domains (fig 3) (Hoglinger 2017; Boxer 2017) using various patient videos to demonstrate different symptom presentations, and pointing out specific red flags across those domains.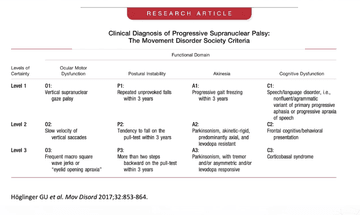 Figure 3: functional domains and levels of certainty outlined in the diagnostic criteria for PSP
Again, Chris demonstrated the radiological markers for PSP (Whitwell 2017), and compared scans of those with PSP to those of people with cortico-basal syndrome (CBS) to demonstrate some of the differences. He explained that finding out the subtype of PSP that a patient has is important for their understanding of the condition and how it might progress. For example the PROSPECT study (Jabbari et al 2020) found that those with subcortical variants including Parkinsonism and gait freezing showed significantly slower disease progression than those with other subtypes, which has implications for communication with the patient and their families, but also for clinical trial design.
Considering prodromal stages, whilst there is not much data on this, Chris pointed out two papers which found motor and non-motor symptoms including postural, cognitive and behavioural problems (Painous 2020) and significantly reduced grip strength (Street 2022) before any other symptoms were more common prior to diagnosis compared to controls and those with Parkinson's.
He reviewed some of the recent trials for pharmacological management of the condition, none of which have met their primary end point (Dam 2021; Hoeglinger 2021). Current trials are looking at rivastigmine RIVA-PSP whilst NORAPS is looking at cognitive-behavioural features, known to be significant in affecting quality of life.
Using two patient videos and case histories, Chris demonstrated the process of moving through a clinical diagnosis for an atypical Parkisonian disorder.
In considering even rarer atypical Parkinsonian disorders, Chris suggested a key paper (Stamelou 2013) and several red flags: an unusual age of onset, strong family history, additional unexpected neurological or non-neurological features, or imaging or testing suggests something else. Chris used two case studies to demonstrate this, one of someone presenting with assumed PSP who had Perry syndrome (Boardman 2022) and another presenting with cortico-basal syndrome who had fragile X tremor ataxia syndrome (Leehey 2009).
Chris reminded the audience of the importance of getting an accurate diagnosis across these different conditions, particularly around the implications within the family for inherited conditions, and the impact on the individual and their families given the different trajectories of these conditions; they need to know what to expect where possible.
He closed by reminding the room of how important it is to ensure people receive the support, advice and signposting they need when they have a rare condition. He advocated for input from the voluntary sector, many of whom have specialist nurses to support and advise. He explained the need for involvement across the whole multidisciplinary team to enable voice banking, symptom management, manage bone health and reduce fracture risk (Kobylecki 2021). He pressed the importance of timely access to both symptomatic and palliative care services (Wiblin 2017) and noted that red flags for palliative input are often around nutrition and speech.
Questions from the floor
A question was asked about current clinical trials as they have a high volume of atypical Parkinsonian conditions in their area.
When asking about the MIB scan, Chris noted that it is cited in the MSA diagnostic criteria as being a useful biomarker.
A question around levodopa response in MSA prompted Chris to confirm he has seen it effective in a limited number of people and that where someone has been prescribed it under a diagnosis of Parkinson's, if it is effective for them, there is no reason to discontinue it.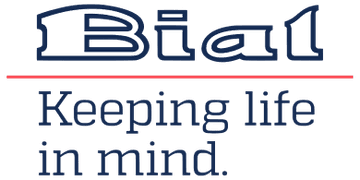 Related articles
'The things you can't get from the books'
Parkinson's Academy, our original and longest running Academy, houses 20 years of inspirational projects, resources, and evidence for improving outcomes for people with Parkinson's. Led by co-founder and educational director Dr Peter Fletcher, the Academy has a truly collegiate feel and prides itself on delivering 'the things you can't get from books' - a practical learning model which inspires all Neurology Academy courses.