In summary: our 6th Parkinson's Cutting Edge Science conference
Event reports
---
---
On Wednesday 21st June, the Birmingham Conference and Events Centre was abuzz once again as Parkinson's experts from across the UK gathered to learn the latest in clinically applicable research, connect with peers and share their own experiences over the past year.
105 delegates, nine speakers and several representatives from sponsor Bial arrived bright and early to attend the sixth Parkinson's Cutting Edge Science conference. The annual conference sees greater numbers in attendance every year, with increasing representation across disciplines. This year, for the first time, over half of the audience was made up of senior and specialist nursing staff, with most other attendees either doctors, consultants or senior registrars from across neurology or medicine for the elderly.
A small number of allied healthcare professionals were present across pharmacy and therapies; Neurology Academy has been working to ensure content is relevant to this audience and hopefully that will be evidenced by the audience in 2024!
After sponsor representative Kheng Chan welcomed everyone to the meeting and noted the symposium session midway through the programme, chair Prof Emily Henderson took to the stage. Reminding everyone that, 'If it's not on twitter, it didn't happen' and encouraging social media engagement via #PDCES, Emily's warm and humorous welcome and high praise for the days' speakers set the scene for an engaging and interactive day.
'What sets this meeting apart is that our speakers present findings in a way that's highly relevant to clinical practice.'
Chair, Prof Emily Henderson
The first speakers of the day were professor of translational neuroscience and psychiatry Sagnik Bhattacharyya and clinical reader in ageing and dementia Dr Latha Velayudhan, who provided background and early evidence around whether endocannabinoid cannabidiol might be a potential treatment for Parkinson's psychosis in the future.

Providing background to both psychosis management and the endocannabinoid system in the human body, Sagnik discussed the evolution of trials in use of cannabidiol and the most recent favourable findings. Latha then provided a brief overview of the use of cannabis (which contains cannabidiol amongst other endocannabinoids) in currently licensed treatments for other conditions, outlined the many unanswered questions around cannabidiol use in Parkinson's including safety, dosing, and interactions, and described the CAN-PDP study she and Sagnik are now undertaking to answer some of these questions.


Latha played a short clip from the BBC interviewing Charles who lives with Parkinson's and has taken part in one of Sagnik's previous studies using cannabidiol to address Parkinson's-related hallucinations.
Questions from the floor concerned whether research around any other endocannabinoids has begun, concerns around potential dependency, and dosage and bioavailability.
Next, Dr Emma Tenison talked about how healthcare professionals can address complexity, frailty and multimorbidity in Parkinson's within the context of her PRIME-UK study. Outlining the three elements - an epidemiological study, cross-sectional study and randomised controlled trial, Emma discussed the methods used to ensure a more representative sample across people with Parkinson's and complex needs, the various findings and the opportunities they present for targeting clinical interactions and discussions regarding preferences and wishes for hospital attendance.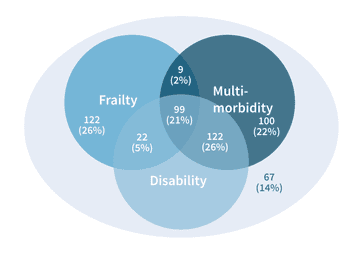 Fig 1: One of a series of Venn diagrams outlining Emma's findings around patient complexity
After a short refreshment break, during which there was a continuous hum of conversation, emeritus professor Carl Clarke presented his findings of a pragmatic, multicentre, parallel group, superiority trial comparing Lees Silverman Voice Technique (LSVT) with NHS speech and language therapy for treating dysarthia, and particularly hypophonia (voice quietening), in Parkinson's. Explaining the social and emotional implications for people with Parkinson's if their voice changes go untreated, Carl discussed both forms of therapy before detailing the initial pilot study and subsequent PD COMM study processes and results.
He discussed the implications for UK services from his results, which found significant benefit from the LSVT and no meaningful benefit from the NHS provided therapy, and the challenges presented by health economics where cost-benefit is not significant enough to see LSVT authorised for use by NICE. Carl suggested some potential modifications to the delivery of LSVT which could bring the therapy within the NICE-accepted parameters, and posed some challenging questions for local services in light of the study's findings.
Questions from the floor confirmed that adherence made little difference to the findings, and that carer quality of life worsened in those people with Parkinson's offered NHS SLT compared to no therapy at all, suggesting that the lack of positive outcome from NHS SLT was disheartening for both patient and carer. One delegate suggested the Live Loud course run by Parkinson's UK in Wales as having a strong positive anecdotal improvement, although no research has been conducted into its efficacy.
After a symposium session and a networking lunch, the only virtual speaker of the day Dr Margherita Fabbri joined the meeting from Toulouse in France to give an incredibly information-packed whirlwind tour through the most significant Parkinson's research of the past year.
Barely pausing for breath, Margherita flew through disease-modifying therapy advances centring on alpha-synuclein, glucocerebrosidase and LRRK2 inhibitors, noting where trials had been successful or where they had failed to meet their primary objectives. She reviewed symptom management studies across medications and exercise, covering dyskinesia, motor fluctuations and insomnia, neuropsychiatric and cognitive problems, and gait and balance.
She summarised that whilst many symptom management studies have been positive, those in disease-modifying therapies have had disappointing clinical results and that whilst researchers can now cause a preclinical or immunological response, we need to review different routes of administration. Margherita ended her talk by reminding the audience that, despite all the pharmacological advances, we cannot overlook the incredible importance and benefit of fun activities and continuity of care as a therapy - a comment which led beautifully into Dr Julie Jones' brilliant, energetic session on exercise for Parkinson's management.
Julie's talk systematically reviewed the evidence for exercise in Parkinson's and suggested the barriers to implementation and the wider considerations needed to put this evidence into practice. Presenting each area of research, Julie expanded the specific focus of the findings into the realities of a person living with Parkinson's, and cautioned against applying findings in isolation.

'Bicep curls will build biceps in people with Parkinson's, but carrying a shopping bag requires the whole arm, including wrist and grip strength, and an element of balance, so taking a person's goal into account is essential.'
Dr Julie Jones, senior lecturer and physiotherapist
Using real-life analogies such as the physical skills required to navigate a cluttered environment like a garden centre (e.g. gait, balance, direction-switching, cognitive responsiveness), she broke down and applied the research to these scenarios, giving a series of take-home messages for people to apply in practice from their very next clinic.


Fig 2: 'What can be learned from research?' Julie's summary of research into practice for pwP
Highlighting that up to 70% of people with Parkinson's are sedentary (Lord 2013), Julie then addressed barriers to beginning physical activity and helped displace the mid-afternoon malaise often found at conferences by leading the audience in practical 'exercise snacks' that she encourages in her patients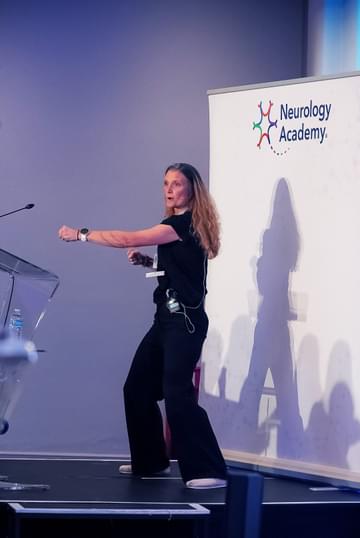 The final session of the day was given by consultant neurologist Dr Chris Kobylecki. He shared some of the challenges to accurately diagnosing atypical Parkinsonian conditions (see figure 3) including multiple system atrophy (MSA), progressive supranuclear palsy (PSP), cortico-basal syndrome (CDS) and the many variants of these (such as PSP with CBS). Throughout the talk, he used brain scans and short videos of patients to demonstrate the different physiology and symptom expression that he was discussing.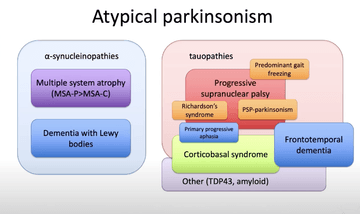 Fig 3: The different atypical Parkinsonisms divided into whether they are associated with alpha-synuclein or tau
Presenting various diagnostic criteria, scan differences and biomarkers for the various atypical conditions, Chris highlighted the known rates of misdiagnosis. He encouraged the audience to keep an open mind regarding any individuals' given diagnosis and to always watch for possible red flags. He also discussed the pharmacological options which may be beneficial and the areas of research currently ongoing.
Chris reminded the audience of the importance of getting an accurate diagnosis across these different conditions, noting the implications within a family where these are inherited, and the impact on both the individual and their loved ones given the different trajectories of these conditions. He closed with reminders around the importance of support, advice and signposting when someone has a rare condition and advocated for input across the whole multidisciplinary team and from the voluntary sector, as well as the importance of access to both symptomatic and palliative care services.
Emily closed the meeting, thanking speakers and delegates alike for their time, and thanking sponsor Bial for enabling the meeting to go ahead. Everyone headed off to their various transports home although the buzz continued for some time post-event, as Twitter was witness to!
Really enjoyed the opportunity to present some work from my recent #PhD at today's @TheNeuroAcademy #PDCES meeting, as well as to listen to all the excellent speakers. An inspiring day with lots of learning to take back into clinical practice! https://t.co/ER1iWAsoTE

— Emma Tenison (@EmmaTenison) June 21, 2023
Over the coming weeks, Parkinson's Academy will be honing in on each session, giving those who couldn't attend an opportunity to learn more about the research presented and the implications for practice that were shared. Find all the articles via the 'Events reports' tag on our Parkinson's news page.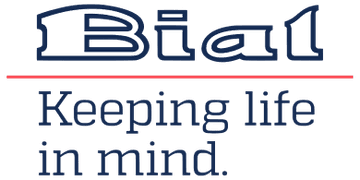 This meeting is designed and delivered by the Parkinson's Academy and sponsored by BIAL Pharma. The sponsor has had no input into the educational content of this meeting.
'The things you can't get from the books'
Parkinson's Academy, our original and longest running Academy, houses 20 years of inspirational projects, resources, and evidence for improving outcomes for people with Parkinson's. Led by co-founder and educational director Dr Peter Fletcher, the Academy has a truly collegiate feel and prides itself on delivering 'the things you can't get from books' - a practical learning model which inspires all Neurology Academy courses.