Dr Lara Teare
News
---
---
As part of our Parkinson's Academy twenty-year celebration, we are highlighting a handful of healthcare professionals who have been on a journey with the Academy over the years, from those involved in the early years through to more recent delegates-turned-speakers. Each individual has contributed so much to the Academy, and found benefits from its education and community in turn.
Lara, who is a clinical lead for neurology who specialises in movement disorders, has been involved with Parkinson's Academy as a delegate, speaker and faculty member for much of her career, developing an intrigue in movement disorders around halfway through her neurologist's training.

A much loved speaker, she is a regular at many of our Parkinson's events from the MasterClasses to our Cutting Edge Science conference, and her fantastic session on the basic science of Parkinson's forms part of the virtual pre-course content for our newly revamped Palliative care MasterClass.

Lara believes in the importance of collaboration and integrated working, both to deliver better services and to provide professional support. Over the past several years, she has worked in her area to improve equity of access within existing resources, and highlights the importance of education across peers and departments to meet a population's needs. For example, supporting generic falls clinics to support people with Parkinson's to regain their mobility, or equipping memory clinics with a better understanding of Parkinson's disease dementia.

A firm believer in the power of community, Lara encourages others working in Parkinson's to join the Excellence Network, engage with local colleagues and take advantage of opportunities to meet with like-minded people, something reflected in the camaraderie of the Parkinson's Academy community.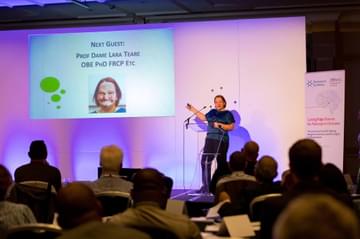 Whether as a speaker or a delegate, she can usually be found at our Parkinson's Cutting Edge Science meeting!
Related articles
'The things you can't get from the books'
Parkinson's Academy, our original and longest running Academy, houses 20 years of inspirational projects, resources, and evidence for improving outcomes for people with Parkinson's. Led by co-founder and educational director Dr Peter Fletcher, the Academy has a truly collegiate feel and prides itself on delivering 'the things you can't get from books' - a practical learning model which inspires all Neurology Academy courses.