A journey through Parkinson's Academy
News
---
---

As part of our twenty-year celebration, we are highlighting a handful of healthcare professionals who have been on a journey with the Academy over the years, from those involved in the early years through to more recent delegates-turned-speakers. Each individual has contributed so much to the Academy, and found benefits from its education and community in turn.

We are so grateful to each and every healthcare professional who has contributed to, or been part of Parkinson's Academy over its 20 years to date, and offer our particular thanks to the faculty and speakers who have steered our educational content or presented their experience and knowledge over the years, to the benefit of so many.

This small collection of eight individuals includes nurses, neurologists, geriatricians, old age psychiatrists, and is led by founder and academic director Dr Peter Fletcher.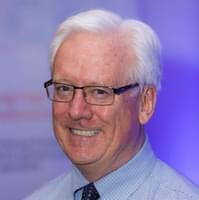 Consultant care of the elderly physician, Gloucestershire Hospitals NHS Foundation Trust
Our academic director, and consultant care of the elderly physician, Dr Peter Fletcher was one of the four founders of Parkinson's Academy and he continues to direct our educational focus and enthuse new cohorts of delegates every year with his passion for Parkinson's and for the transformative power of practical, effective education.

'From modest beginnings what has surprised and delighted me over the last 20 years is just how incredibly popular our Parkinson's Academy MasterClasses have become.'
It was Peter who developed the pre-course needs-analysis questionnaire to ensure that each MasterClass would be tailored to meet the needs of the delegates in the room. Whilst our questionnaire has been updated recently in recognition of professionals' time constraints to maximise information gathering and minimise response times, every speaker will receive a summary of their classes' learning needs to influence their session content ahead of time.

Having coined the Academy's catchphrase 'the things you can't get from books', Peter's vision for interactive, peer-led and practically applicable education has created the template for every piece of education to come from Neurology Academy ever since.

'Giving challenging learning outcomes that will change things at a grassroots level, and keep changing them - that's what makes a difference to people with Parkinson's'.
When we celebrated the winner of the 42nd MasterClass intermodule project this month, we also took a moment to acknowledge Peter for his incredible service to Parkinson's education.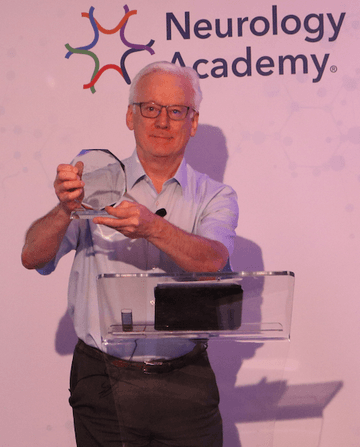 We asked Peter to reflect on the past twenty years. Here's what he told us:
'From modest beginnings what has surprised and delighted me over the last 20 years is just how incredibly popular our Parkinson's Academy MasterClasses have become. It would be nice to think it is the content and formats that we offer our learners and of course the incredible quality of those delivering the material - many, our own alumni. While all of this is true it is the hunger our learners have for good quality learning that drives demand more than anything else.

So where does that hunger come from? Easy; our participants are hands-on clinicians and take their day-jobs very seriously indeed. Quite simply they want learning that helps them to help their patients. Alongside knowledge and skills comes learning on what a good service might look like, who might staff it and how a business case could emerge.

Learning can be fun and we know from the course evaluations that participants thoroughly enjoy the networking. We learnt a lot during the SARS-CoV-2 periods of isolation but thanks to our incredible management, administration and audio-visual teams we delivered every planned event. It is true that at one point we were only virtual, but we are now hybrid again and winding back up to previous ways of delivering our MasterClasses.

That interaction is vital as our participants launch themselves into the world of Parkinson's service delivery and enjoy sharing continuing professional development with peers over subsequent decades.

In the final analysis, the best outcomes will be our patients' experiences of the services they receive from our alumni. Achieving these outcomes remain central to our Parkinson's Academy MasterClasses.'
Read all eight stories below:
Related articles
'The things you can't get from the books'
Parkinson's Academy, our original and longest running Academy, houses 20 years of inspirational projects, resources, and evidence for improving outcomes for people with Parkinson's. Led by co-founder and educational director Dr Peter Fletcher, the Academy has a truly collegiate feel and prides itself on delivering 'the things you can't get from books' - a practical learning model which inspires all Neurology Academy courses.