Dr Tom Mace
News
---
---
As part of our Parkinson's Academy twenty-year celebration, we are highlighting a handful of healthcare professionals who have been on a journey with the Academy over the years, from those involved in the early years through to more recent delegates-turned-speakers. Each individual has contributed so much to the Academy, and found benefits from its education and community in turn.
Tom graduated Parkinson's Academy's Foundation and Advanced MasterClasses as a registrar, and developed an integrated, multidisciplinary Parkinson's Hub as his intermodule project for the latter. The innovative service, with a service flow in three parts - referral, assessment in two parts, and follow-up - won his class project award in 2019, and the Academy supported him in getting the initiative published in a journal (ACNR 2020).

'I've loved my time as part of the MasterClass community. The foundation class was recommended to me as a junior registrar, which was pitched perfectly to give me a strong grounding for clinics. As a senior registrar, I attended the Advanced MasterClass. It was truly inspirational.'
Now a geriatrician, Tom is clinical lead for the unique service he established for patients living with Parkinson's and frailty or complex symptoms which won the Parkinson's UK Excellence Network Award winner for both Innovation in Practice and Overall Excellence in 2021.
He has recently become an Academy speaker, bringing his experience and expertise on how to build a service to the Advanced MasterClass.
'The faculty are inviting and supportive. I still look forward to meeting up with people from the community who understand the rewards and challenges a career in Parkinson's offers. Beyond an educational course, it's a place to meet like-minded friends.'
He has lately taken on leadership roles, as co-chair for Yorkshire's Parkinson's Excellence Network Branch and is part of the steering group for multidisciplinary care at the Parkinson's Excellence Network.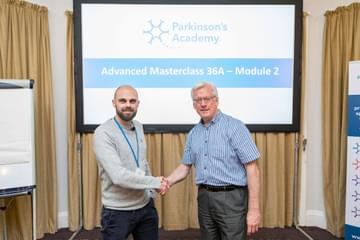 Dr Tom Mace with Dr Peter Fletcher in Sheffield, November 2019
Related articles
'The things you can't get from the books'
Parkinson's Academy, our original and longest running Academy, houses 20 years of inspirational projects, resources, and evidence for improving outcomes for people with Parkinson's. Led by co-founder and educational director Dr Peter Fletcher, the Academy has a truly collegiate feel and prides itself on delivering 'the things you can't get from books' - a practical learning model which inspires all Neurology Academy courses.