Louise Ebenezer
News
---
---
As part of our Parkinson's Academy twenty-year celebration, we are highlighting a handful of healthcare professionals who have been on a journey with the Academy over the years, from those involved in the early years through to more recent delegates-turned-speakers. Each individual has contributed so much to the Academy, and found benefits from its education and community in turn.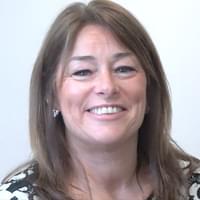 Clinical nurse specialist for Parkinson's disease, Cwm Taf Morgannwg University Health Board
Louise has been in nursing all her career, and a Parkinson's specialist nurse for almost 20 years of it and is a firm advocate for lifelong learning. She brings enthusiasm for both practice and education into the Academy whether as a delegate or a speaker, believing the two go hand in hand: the more professionals learn, the more they can share with their patients, and thus the better empowered their patients are to self-manage.

'Parkinson's Academy is an invaluable resource for all healthcare professionals who are interested in movement disorders.'
She taught herself about Lewy body dementia to better support her Parkinson's patients, attended a Dementia MasterClass to cement this learning, and supports those experiencing this dementia in a specialist clinic. She has also attended Parkinson's and Palliative Care MasterClasses over the years, and spoken at various events herself.

'I would encourage everyone to attend Neurology Academy courses to improve your skills in leadership: clinically, educationally and managerially.'
She was the only Parkinson's nurse in her area for 18 years. She has successfully written a business plan for succession planning and has employed another PDNS in a development role. She works across hospitals, the community including people's homes and care homes, creating advanced plans for anyone with Parkinson's having elective surgery in her local hospital, and supporting her patients in all aspects of their care from diagnosis to the end of life.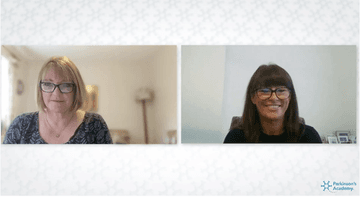 Image: Louise with colleague and fellow Parkinson's specialist nurse Jane Price on the virtual Parkinson's Tailored Management programme
Related articles
'The things you can't get from the books'
Parkinson's Academy, our original and longest running Academy, houses 20 years of inspirational projects, resources, and evidence for improving outcomes for people with Parkinson's. Led by co-founder and educational director Dr Peter Fletcher, the Academy has a truly collegiate feel and prides itself on delivering 'the things you can't get from books' - a practical learning model which inspires all Neurology Academy courses.