Jane Price
News
---
---
As part of our Parkinson's Academy twenty-year celebration, we are highlighting a handful of healthcare professionals who have been on a journey with the Academy over the years, from those involved in the early years through to more recent delegates-turned-speakers. Each individual has contributed so much to the Academy, and found benefits from its education and community in turn.
A highly experienced Parkinson's nurse advanced practitioner, Jane has been involved with the Academy for several years. She has an incredible commitment to supporting fellow nurses through education and professional development, and was part of the duo to develop the Parkinson's Tailored Management programme. Aimed at new-to-post Parkinson's nurses or neurology nurse specialists, the course is a practical overview to medication and non-motor symptom management which she developed with fellow nurse Louise Ebenezer, creating the programme, content and resources from scratch.

At a national level, she was involved in the Parkinson's non-oral pathway development, has spoken on Academy webinars, and often authors papers based on policy and practise for nursing audiences.

Her commitment to education flows into other education roles, including on the Parkinson's UK induction for new nurses and the MDS summer schools and African education programmes for nurses internationally. She is a regular speaker at Academy events, including webinars and conferences and recently addressed the Parkinson's Cutting Edge Science conference on the importance of shared decision making, to great accolades.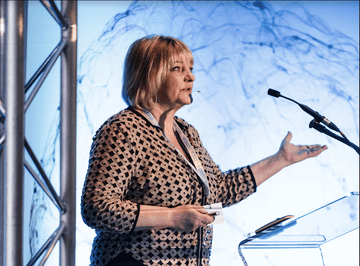 Jane Price at Parkinson's Cutting Edge Science
Related articles
'The things you can't get from the books'
Parkinson's Academy, our original and longest running Academy, houses 20 years of inspirational projects, resources, and evidence for improving outcomes for people with Parkinson's. Led by co-founder and educational director Dr Peter Fletcher, the Academy has a truly collegiate feel and prides itself on delivering 'the things you can't get from books' - a practical learning model which inspires all Neurology Academy courses.