How do the results of LSVT compare with NHS speech and language therapy and control for dysarthria in Parkinson's?
Event reports
---
---
Our Parkinson's Cutting Edge Science conference took place on 21st June 2023 at Birmingham Conference and Events Centre and was chaired by Prof Emily Henderson. You can read an overview of the entire event here.
This write up is one of a series covering each session in detail for those who were unable to attend, or want to reflect on what they heard.
The event was sponsored by Bial Pharma. The sponsor had no input into the educational content of the meeting.
Prof Carl Clarke introduced dysarthria - difficulty with speech due to weakening muscles - which is a common symptom in Parkinson's and includes both hypophonia (voice quietening) and dysprosody (vocal bradykinesia). He noted that as communication becomes more effortful, it can cause people to withdraw socially.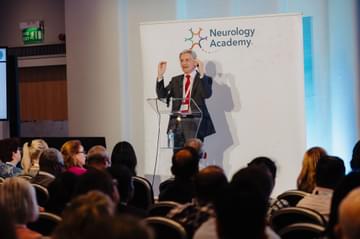 Carl outlined the evidence base for the standard NHS speech and language therapy (SLT) that tends to draw on various approaches, including diaphragmatic breathing, pacing and rate control, and voice or articulation exercises, all accounting for individual functional requirements and any existing speech impediments. He contrasted this with the 'Lee Silverman voice technique LOUD' (LSVT), developed in Colorado USA which requires specific training and with a fee attached. The LSVT focuses on vocal production effort, encouraging patients to attain, monitor and maintain a loud voice.
He explained the limitations of previous studies in Parkinson's dysarthria; the LSVT trials have had favourable results (Mahler 2015) yet include a bias having all been carried out by the developers themselves, whilst there is a limited evidence base for general speech and language therapy with small scale trials only.
Carl introduced his recent study PDCOMM. A pragmatic trial, it took place within actual clinical practice, and is therefore representative of a real-world sample of people, and includes an assessment of the cost-benefit of the work.

The initial pilot study contrasted people with Parkinson's treated with LSVT, standard SLT, or no therapy. They found that both LSVT and NHS SLT had a trend towards vocal improvement after three months of therapy, with LSVT improving by 12.5 and SLT by 9.8 points, suggesting both may be beneficial. These findings secured funding for the full PDCOMM trial (protocol).
Explaining the different aspects of each type of therapy, Carl also shared information around the rating and measurement mechanisms used within the trial, including the voice handicap index (VHI) which measures the patient's own understanding of their voice in relation to their daily activities.
The results of the main study differed to the pilot, in that there was not a trend towards improvement across both therapies. Researchers found that there was a significant benefit for those with voice quietening from LSVT when compared with either no therapy or NHS SLT. However, NHS SLT was found to be non-beneficial. Indeed, when NHS SLT was compared to no therapy at all, there was no meaningful benefit found.
Considering benefits over a longer period, Carl presented data across 12 months, demonstrating that the LSVT was found to remain beneficial over that period when viewed across different rating scales including the voice handicap index (VHI), the Parkinson's disease questionnaire (PDQ-39) and the quality assessment with diverse studies (QuADS).
Carl was clear that these results have implications for NHS services, yet these implications are complex. As yet, the health economics do not fall in favour of the NHS funding the LSVT as outlined by NICE (NICE 2013; 2022) and NICE guidance for Parkinson's is not due for review until 2023 when the therapy might be included. However, he suggested that a modified version of the LSVT could change the cost of the intervention and bring it within the NICE cost per quality of life unit limit - although this does not take into account the training of the therapist.
Posing some challenging questions for local services in light of this information, Carl queried whether NHS SLT ought to be withdrawn for people with Parkinson's-related voice quietening given its lack of efficacy, whether one or two local therapists ought to be trained in LSVT in all areas around the country, or whether LSVT ought to be offered to a subset of patients who are not experiencing a form of dementia and are able to travel. These questions were posed rhetorically; Carl did not give a recommendation for further action, but rather left the room pondering the best way forward based on these findings.
Questions from the floor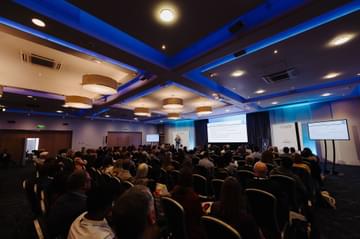 In response to a query around adherence as to whether those with complete adherence to the course did better than those with less adherence, Carl found little difference in outcomes. He also added that, in other data, they found that carer quality of life got worse in those people with Parkinson's offered NHS SLT compared to no therapy suggesting that the lack of positive outcome from NHS SLT was disheartening for both patient and carer.
A question about whether a higher 'dose' of NHS SLT might be beneficial was posed, but Carl noted that the dose given was what was available in ' real-world clinical practice' which was important for a pragmatic study. He also noted that, statistically, there was no difference between NHS SLT and no therapy, meaning there is little argument to trialling a higher dose; the findings are that the number of hours of intervention currently offered do not work.
One delegate noted that there are other treatment options available in addition to LSVT and NHS SLT such as the Live Loud course run by Parkinson's UK in Wales by patients for patients. This is anecdotally well-received, and was posed as a potential alternative solution to the challenges outlined by this research. Carl explained that additional research into this would be required.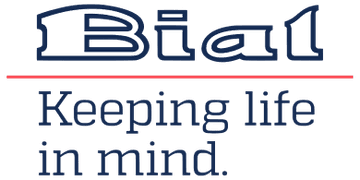 'The things you can't get from the books'
Parkinson's Academy, our original and longest running Academy, houses 20 years of inspirational projects, resources, and evidence for improving outcomes for people with Parkinson's. Led by co-founder and educational director Dr Peter Fletcher, the Academy has a truly collegiate feel and prides itself on delivering 'the things you can't get from books' - a practical learning model which inspires all Neurology Academy courses.