Is cannabidiol a potential treatment for Parkinson's psychosis?
Event reports
---
---
Our Parkinson's Cutting Edge Science conference took place on 21st June 2023 at Birmingham Conference and Events Centre and was chaired by Prof Emily Henderson.
You can read an overview of the entire event here.

This write up is one of a series covering each session in detail for those who were unable to attend, or want to reflect on what they heard.

The event was sponsored by Bial Pharma. The sponsor had no input into the educational content of the meeting.

Sagnik Bhattacharyya, professor of translational neuroscience and psychiatry, opened his talk on whether cannabidiol (CBD) might be beneficial for people with Parkinson's experiencing neuropsychiatric symptoms with an introduction to Parkinson's and psychosis. Explaining that between 50-60% of people with Parkinson's will experience psychosis, he noted the considerable impact of this on individuals and their families. Psychosis is associated with significant patient and carer distress, loss of quality of life, increased risk of developing Parkinson's disease dementia, and a higher risk of mortality. He also demonstrated that people with Parkinson's who experience psychosis have a higher rate of grey matter loss than those without this symptom.

Outlining the current therapeutic and pharmacological treatment options, Sagnik proposed that there is a clear unmet need for well tolerated and effective treatments - and introduced his work examining cannabidiol and its interactions in humans. Cannabinoids are found in humans, mammals and plants (Silver 2019; Russo 2016).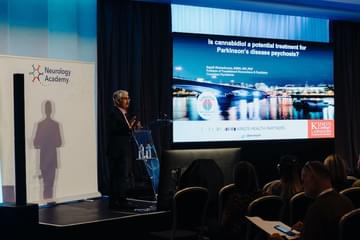 Cannabidiol (CBD) is one cannabinoid out of over 140 found in the cannabis plant which can interact with the human endocannabinoid system. Tetrahydrocannabidiol (THC) is another cannabinoid found in cannabis. Sagnik examined the role that THC has in the brain in increasing likelihood of psychosis, and cited studies which found that, in patients with psychotic symptoms who were taking THC, CBD could block some of that activity (Davies et al 2023; Davies 2019) Lisman et al 2008). He then outlined his enquiry as to whether CBD might have a reverse effect (Battacharya 2010).
Reviewing other randomised control tests considering the antipsychotic effects of CBD in the brain, Sagnik summarised three studies where CBD was found effective as an antipsychotic in people with established psychosis or schizophrenia (Leweke 2012; McGuire 2018; Boggs 2018). Presenting a recent study, Sagnik disclosed that relative to healthy controls, a single dose of CBD can affect some of the activity in the areas of the brain thought to be responsible for psychosis (Battacharya 2018). They observed a greater change over 21 days in the brains of those at risk of developing psychotic symptoms when treated with CBD compared with placebo.

Sagnik closed with a note on safety and efficacy of cannabinoid use in older people; CBD has been found to be well tolerated in those over the age of 50, but THC has been found to be more likely to induce psychotic-like symptoms in this group and it should be avoided.

Clinical reader in ageing and dementia Dr Latha Velayudhan continued the topic, discussing different levels of psychosis and the current treatment options available in more detail, and examining the shortcomings of the current treatment options.

Painting a current picture of cannabis use in medicine, and where there may be a crossover with Parkinson's, at present it needs to be prescribed and is only licensed for use in spasticity. She also noted that the THC component in cannabis flags some concerns with use of the entire plant regarding its links to psychosis.

Latha explained that isolated use of CBD rather than cannabis may therefore be more effective in Parkinson's, but that there are still significant unknowns around quality, quantity, safety and efficacy in this. She cautioned that quality and concentration of shop-bought CBD is unregulated and was clear that the quantities used in studies to date hugely exceed those found in over-the-counter CBD supplements.

Latha was clear that there are still many unknowns around the safety, efficacy and dosing of CBD which may be helpful in Parkinson's. To answer some of these questions, Latha and her team have begun the CAN-PDP study where people with Parkinson's take a capsule form of pure pharmaceutical grade CBD daily whilst having both motor and non-motor symptoms monitored.
Inclusion criteria for CAN-PDP outlined:
Age 40 or over

experiencing symptoms of psychosis (e.g. hallucinations or delusions) following onset of Parkinson's

On stable doses of Parkinson's medication and that for psychosis (quetiapine, risperidone) - except clozapine

Have reliable informant / caregiver

Not pregnant or lactating
Primary outcomes of the study are to identify dose, safety and efficacy for this cohort of people. Part one of the study, to establish the dosing of CBD, has been completed, and Latha shared a short film interview with one of the participants who took part in that aspect of the study.

Secondary outcomes include changes to psychotic symptoms, motor symptoms, sleep patterns and caregiver burden. If the results are positive, this study could be pivotal to future treatment options.

Latha encouraged anyone with Parkinson's patients who might benefit from participating in the trial to get in touch with her (the associated patient-information sheet is available online for more information).

Questions from the floor

A question around whether there are any other studies researching other cannabinoids or other plant types which may provide benefit led Sagnik to highlight the issues around getting a consistent dose of a uniform content which is challenging if broadening out the research to more plants and cannabinoid types.

In response to whether there are addictive elements to CBD, Sagnik shared that the addictive aspects of cannabis are in THC rather than CBD, which does not cause any dependency or withdrawal problems.

Regarding whether there is any benefit in people with Parkinson's taking over-the-counter forms of CBD, Sagnik clarified that high street levels available are likely to be around 10mg of CBD whilst the current study is offering a daily dose of 800mg of CBD. He explained that CBD is very poorly bioavailable with only 6-13% of CBD that is taken getting into the bloodstream and little understood as to how much then gets to the brain, so there is very little CBD getting into the bloodstream from the dosing available on the high street.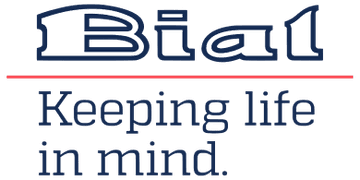 'The things you can't get from the books'
Parkinson's Academy, our original and longest running Academy, houses 20 years of inspirational projects, resources, and evidence for improving outcomes for people with Parkinson's. Led by co-founder and educational director Dr Peter Fletcher, the Academy has a truly collegiate feel and prides itself on delivering 'the things you can't get from books' - a practical learning model which inspires all Neurology Academy courses.