Launching our brand new Parkinson's: Tailored Management Course
News
---
---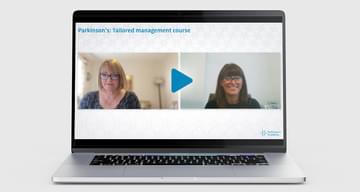 Jane Price and Louise Ebenezer
We're excited to announce the launch of our new course, Parkinson's: Tailored Management. Our first educational package to address the in-depth management of Parkinson's on a daily basis, this fully virtual, practical how-to guide is perfect for anyone looking to understand or improve how they support people with Parkinson's to live well from day to day.

Developed by nurse specialist experts Louise Ebenezer, Parkinson's Nurse Specialist, Cwm Taf Morgannwg University Health Board, and Jane Price, Parkinson's Nurse Advanced Practitioner, Powys Teaching Health Board and chair of the PDNS Association, this detailed course is a series of 12 virtual sessions, split into two modules of 6 sessions each.
Specifically focussed on supporting management of medication (module 1) and non-motor symptoms (module 2), each session addresses a particular element of management through a mixture of background and evidence base, patient stories and complex case studies.
Delegates are guided through the full patient journey for that aspect of management, from the practical to emotional, giving a clear picture of optimal care tailored to each individual with Parkinson's.
A perfect option for any professional looking to develop an understanding of treating people with Parkinson's, or to refresh their knowledge and review their own practice, this course will help broaden your understanding of how a person with Parkinson's might experience their condition and their care, and how best we, as healthcare professionals, can support them to live their best lives.

'The things you can't get from the books'
Parkinson's Academy, our original and longest running Academy, houses 20 years of inspirational projects, resources, and evidence for improving outcomes for people with Parkinson's. Led by co-founder and educational director Dr Peter Fletcher, the Academy has a truly collegiate feel and prides itself on delivering 'the things you can't get from books' - a practical learning model which inspires all Neurology Academy courses.