MS MasterClass 6.2 project winners announced!
News
---
---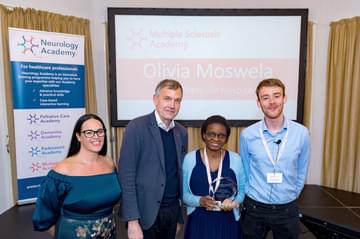 Last night, Olivia Moswela was announced the winner of the MS MasterClass project for our 6th MS intermodule project awards. Olivia, who presented her work on infectious complications of disease-modifying therapies (DMTs) in MS, had carried out an audit into both pre-treatment screening and risk mitigation for the high-efficacy treatments available in her locality.
Runner-up went to Dr Bindu Yoga for her work auditing the amount of time that lapses between the moment a person with MS decides on a specific DMT to the commencement of treatment.
A number of this years' projects focussed on aspects of DMTs, from infection or risk such as Olivia's work, through to equitable access of treatment based on locality, to patient's understanding of various DMT's associated risks and effects. Other projects looked at specific treatments such as Fingolimod, Cladribine or Tysabri providing a much needed body of evidence for this growing area of MS treatment.
The Neurology Academy are committed to sharing this evidence to further support the knowledge base of clinicians and quality of care for those living with MS and other neurological conditions, and all of this research can be found on our website.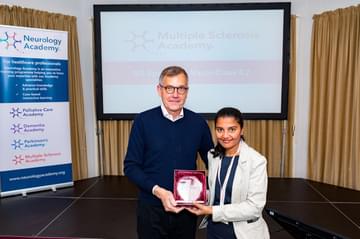 Related articles
Encouraging excellence, developing leaders, inspiring change
MS Academy was established five years ago and in that time has accomplished a huge amount. The six different levels of specialist MS training are dedicated to case-based learning and practical application of cutting edge research. Home to national programme Raising the Bar and the fantastic workstream content it is producing, this is an exciting Academy to belong to.