NHS Reset and Reform: evaluating progress one year on
News
---
---
Last year, Neurology Academy led research and publication of an important report: 'NHS Reset and Reform'. Now, an evaluation of the report's impact over the past year has been published in the British Journal of Neuroscience Nursing.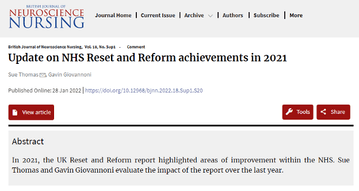 The original report clearly detailed the challenges facing NHS services for multiple sclerosis (MS), many of which had been exacerbated by the coronavirus pandemic. Seeing the pandemic as an opportunity to learn and to 'do things differently', the report provided potential solutions across a range of areas: a roadmap to improvement for people with MS.
'COVID has required us to stop and restart services. Why not restart them better?'
Dr Ian Pomeroy, Consultant Neurologist, The Walton Centre NHS Foundation Trust
Healthcare consultant Sue Thomas and Professor of Neurology Gavin Giovannoni, primary authors of the original report, have now evaluated its impact on services over the past year. Their article reports on how MS services have responded to the challenges they face and the roadmap provided by revisiting each of the report's key themes:

(The above links revisit some of the short interviews on each theme given by a range of healthcare professionals and experts in MS at the time of the original report's publications.)

To learn more, watch the introductory video below, read the original report and supplementary information online, or find the evaluation report via the BJNN.
Related articles
Encouraging excellence, developing leaders, inspiring change
MS Academy was established five years ago and in that time has accomplished a huge amount. The six different levels of specialist MS training are dedicated to case-based learning and practical application of cutting edge research. Home to national programme Raising the Bar and the fantastic workstream content it is producing, this is an exciting Academy to belong to.