Parkinson's MasterClass project winner acknowledged in Scottish parliament
News
---
---
Specialist nurse Nick Bryden wanted to improve access to timely medication for people with Parkinson's admitted to hospital in his area. When he enrolled on the Parkinson's Advanced MasterClass with the Academy, he decided to use his intermodule project to do just that. His project was voted winner by his class, and his local MP raised a motion to publicly acknowledge his work in the Scottish parliament.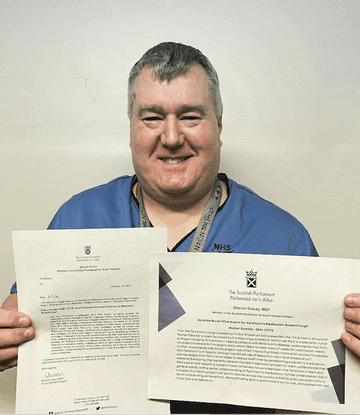 Through research into the opportunities within electronic records, collaboration with senior pharmacists, and pilot education for non-specialist ward staff, Nick has developed comprehensive reporting systems, more joined up working between the Parkinson's team and general wards, and improved understanding of Parkinson's medication in his local hospital.

His project poster, 'Can existing NHS electronic systems timely medication be used to improve Parkinson's medication administration?' is available online to share his learning with others seeking to improve timely access to Parkinson's medication in their inpatient settings.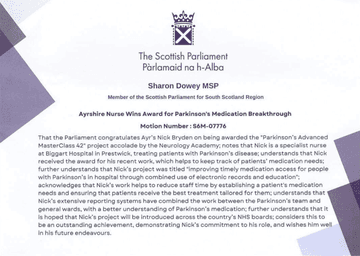 Image: The motion card presented at the Scottish parliament by MP Sharon Dowey
View the motion card here.
When we reached out to congratulate Nick, he was very humble in his achievements, saying

'Much appreciated, but I couldn't do it without everyone and continued support from people like yourself, the Academy and the wonderful people you meet at conferences.'
Daiga Heisters, our head of Parkinson's Academy, said:

'It is wonderful to see Sharon Dowey MP acknowledging the impact of Nick's project and encouraging others to follow suit. Sharing initiatives and improving outcomes for people living with Parkinson's is why the intermodule projects are an integral part of the Parkinson's Advanced MasterClass.'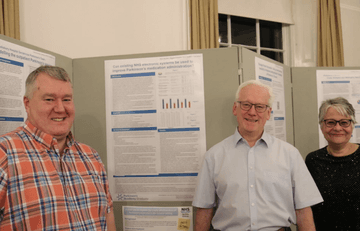 'The things you can't get from the books'
Parkinson's Academy, our original and longest running Academy, houses 20 years of inspirational projects, resources, and evidence for improving outcomes for people with Parkinson's. Led by co-founder and educational director Dr Peter Fletcher, the Academy has a truly collegiate feel and prides itself on delivering 'the things you can't get from books' - a practical learning model which inspires all Neurology Academy courses.