Spinal cord stimulation for gait dysfunction in Parkinson's: Parkinson's Cutting Edge Science conference 2022
Event reports
---
---
Our Parkinson's Cutting Edge Science conference this year, chaired by Dr Emily Henderson, was attended by over 170 Parkinson's specialists spanning Neurology, Old age psychiatry, and Medicine for the elderly, with nurses, therapists and consultants discussing and debating nuanced aspects of Parkinson's treatment, management and care. Each week, we will take a closer look at one of the brilliant sessions.
Dr Yen Tai, neurologist and honorary clinical senior lecturer at Imperial College Healthcare NHS Trust, opened this year's conference by discussing spinal cord stimulation for gait dysfunction in Parkinson's.
Dr Yen opened by discussing the impact of falls on the NHS and on patients themselves and highlighted the various reasons which cause people with Parkinson's to fall including:
freezing of gait (including 'off' versus 'on')
camptocormia, festination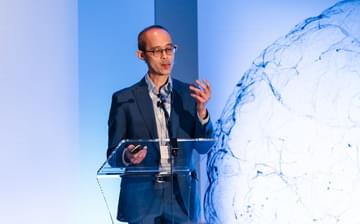 Dr Yen Tai presents the latest research on spinal cord stimulation for Parkinson's gait dysfunction
The spinal cord and our movement
Yen demonstrated the different ways that we control movement, going into detail about the direct and indirect pathways used to control movement. Neurodegeneration in Parkinson's and progressive supranuclear palsy (PSP) is thought to impact the pedunculopontine nucleus (PPN) which in turn causes such changes in movement and gait; reduced messaging through this has also been observed in people with Parkinson's who are experiencing more falls.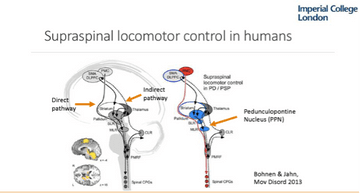 Yen talked about the challenge of gait and movement management in patients managing their Parkinson's through DBS, noting that whilst many Parkinsonian symptoms are brought under control well by DBS, gait and balance are often not improved in the same way, and can actually worsen for some (Collomb-Clerc & Weltern 2015).
Evidence for spinal cord stimulation
Spinal cord stimulation has been used for some time in medicine to treat refractory neuropathic pain and chronic back pain such as in failed back surgeries and Yen outlined some of the theories around why this can help treat pain, including the Gate control theory (Cury and Moro 2021).
It became apparent that when people with Parkinson's were treated for back pain through spinal cord stimulation, their gait also improved. It was unclear whether this improvement was due to lessened pain or for another reason, however. Yen described the research conducted in rodents and primates (Fuentes et al 2009; Santana et al 2014), and shared a small number of trials carried out in people with Parkinson's without back pain to monitor the impact.
He demonstrated two short videos of two people with Parkinson's and DBS walking post-stimulation with remarkable effects, although noted that the study was not blind placebo-controlled and that the placebo-effect might have had an impact on the results. (de Souza et al 2017).
Yen also shared results of a study using different amounts of stimulation, where a higher amount demonstrated the most impact in improving gait, and the lower amount still generated improvement, but to a lesser degree, and with shuffling on turning (Samotus et al 2018).
However, on balance, Yen was clear that not all studies have seen positive results, with a small sample of 6 people in Toronto undergoing a similar style of test as in the previous trials seeing no improvement in gait (Prasad 2020).
Questioning the reason for this, Yen suggested that the term 'postural instability and gait disorder' (PIGD) is not homogenous and reminded the room that there are many reasons for problems with balance and gait. Bohnen (2019) used various assessments to try to classify people with Parkinson's with PIGD into 'freezers' and 'fallers' and to understand what contributes to these different traits.
They found that:
Fallers have a reduction of cholinergic activity in the thalamus
Freezers have a reduction of cholinergic activity in bilateral striatum, temporal and mesiofrontal limbic regions
These differences suggest that to use the same treatment on each type of patient and expect the same outcome is unhelpful. However, it is unclear whether the spinal cord stimulation is more successful in those who are 'fallers' or 'freezers'.
Outstanding questions and future studies
Yen was clear that this is not the only 'unknown' of the treatment form at present. Other questions include:
whether outcomes measures ought to be established in laboratories or real-life
what form of mechanism is most appropriate – percutaneous or surgical

level and location of stimulation – cervical or thoracic
inadequately understood confounders including placebos, controls (or lack of), DBS or back pain or not
what kind of stimulation – single / tonic, burst stimulations or high frequency intervals – most studies are in tonic at present
Yen discussed a new trial expected to start at Imperial College, London, looking at up to 8 Parkinson's patients with treatment-resistant gait disorders and predominantly freezing of gait. Exclusions are those with cognitive impairment, back pain or using DBS, or on cholinergic medication.
The trial will:
target the mid-thoracic area
be via a percutaneous method
monitor the impact of tonic, burst and high frequency interval stimulation in each patient, these will be initiated in a random order for up to six weeks at a time
be double-blind (blind to both patient and assessors) and with a control group
have multi-modal outcome measures including clinical scales, lab-gait analysis, wearables,
use PET scans (both FEOBV cholinergic and fluorodeoxyglucose) at baseline and 12 months.
Yen highlighted a parallel study, STEP-PD, taking place in Aarhas University with a similar mode of stimulation but a different trial design:
12 patients with Parkinson's and freezing of gait
Double-blind placebo controlled
Use burst stimulation versus placebo for six months followed by 6 months of open-label where everyone receives the stimulation
PET scanning at baseline and 12 months.
In conclusion, Yen was clear that there are many ways to address gait and movement and that this current area of research may provide just one further option for people. In response to questions from the floor, Yen reiterated that this treatment option is still in early phases of trial with many currently unanswered questions and is not yet a viable option for healthcare professionals to offer to patients in clinic.
'Excellent meeting, almost faultless presentations. Lived up to its name - that is, really cutting edge staff were discussed.'
Delegate in attendance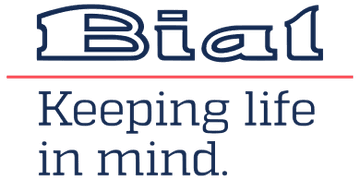 This meeting is designed and delivered by the Parkinson's Academy and sponsored by BIAL Pharma. The sponsor has had no input into the educational content of this meeting.
'The things you can't get from the books'
Parkinson's Academy, our original and longest running Academy, houses 20 years of inspirational projects, resources, and evidence for improving outcomes for people with Parkinson's. Led by co-founder and educational director Dr Peter Fletcher, the Academy has a truly collegiate feel and prides itself on delivering 'the things you can't get from books' - a practical learning model which inspires all Neurology Academy courses.