Navigating the comprehensive review of the MS patient in the community
---
By
Pamela Andrews, MS Specialist Nurse, Hertfordshire Community NHS Trust
---
Project write up
Introduction
NICE guidelines and NHS England state that every person with Multiple Sclerosis (MS) are offered a comprehensive review once a year.

MS Trust research has found that many people with advanced MS report losing contact with MS specialist services as their condition gets worse and have to rely on informal care from family and friends, and sometimes have to manage the condition alone. (Advanced MS Champion's program, the MS trust 2018). The MS trust estimates that more than 40,000 people in the UK have advanced MS . Advanced MS describes the scale of impact that MS is having on an individual rather than the type of MS they have
December 2021, New in post and to the role of the MSSN was daunting; a caseload of 630 service users and approximately 450 with advanced MS. I used the tools that I had inherited to ensure service users needs were being met. The most used tool was the document for the annual review. While using this document over several months I noted that it was not easy to navigate and found I was continually duplicating work, which was time consuming and not always addressing the needs of the service user.
After speaking to other members of the wider team, I decided the template needed an overhaul. I reviewed NICE guidelines and NHS England for people with Multiple sclerosis and working through the HCT requirements for data collection and documentation to ensure the review was comprehensive, and inclusive of meeting the service user needs.
Objective
To develop a document for a comprehensive review that would identify any care, social or other interventions that a service user may need, easy to use, self-explanatory with questions, prompts and problem solving adjuncts included.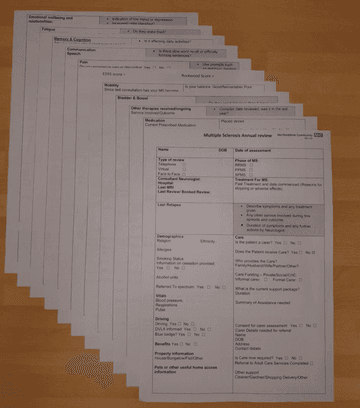 Service Development
A comprehensive document that will identify the requirements of the service user at one time , enabling prompt interventions to be put in place and empowering the service user with up to date relevant information and strategies.
Conclusion
Headings are clear and concise.
Questions that could be asked where relevant are within the document and strategies for interventions are identified
Ongoing referrals to relevant external agencies are documented
Referrals needed to other specialist pathways within service are documented
Patients continue under MS nurse review as appropriate/follow up
The document has been reviewed by the wider MDT team and has been used by the MS nurses, feedback has been positive so far but there are improvements to be made. (Sex and MS)
The document can be used by anyone with limited knowledge of Multiple sclerosis, with the prompts guiding the conversation
Easy to transfer information to formal assessment on database

More MS Academy Comprehensive care Projects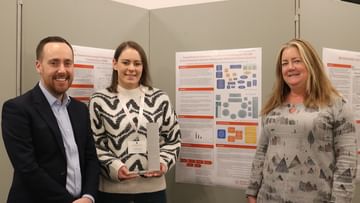 Encouraging excellence, developing leaders, inspiring change
MS Academy was established five years ago and in that time has accomplished a huge amount. The six different levels of specialist MS training are dedicated to case-based learning and practical application of cutting edge research. Home to national programme Raising the Bar and the fantastic workstream content it is producing, this is an exciting Academy to belong to.