A comparison of referrals to an elderly outpatient clinic and to a Parkinson's disease clinic
---
By
Dr Alison Espley & Dr Robert Behrman, St Marks Hospital
---
We review the management of patients referred with possible PD. Those referred to outpatients (n=49) and those referred to a PD clinic (n=108) were a similar average age in both groups, and both largely untreated at referral. All referred to the PD clinic had an appointment within 6 weeks, whereas this was only the case for 75% of those referred to an elderly clinic (the longest wait was 76 days). Compared to patients referred to the elderly outpatient clinic, those referred to the PD clinic received twice as many PT/OT referrals (98% vs 50%), over four times as many SLT referrals (86% vs 20%), almost three times as many PD nurse referrals (72% vs 27%), and received over three times as many DVLA discussions (34% vs 10%).
Diagnoses made at specialist PD clinic: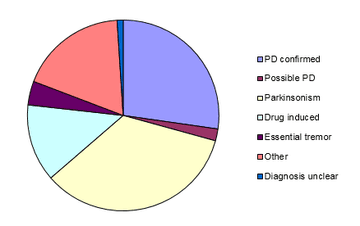 Diagnoses made at elderly outpatient clinic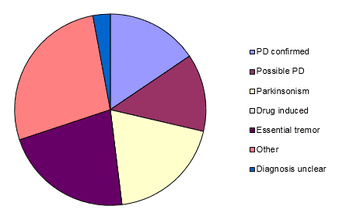 More Parkinson's Academy Elderly care Projects
'The things you can't get from the books'
Parkinson's Academy, our original and longest running Academy, houses 20 years of inspirational projects, resources, and evidence for improving outcomes for people with Parkinson's. Led by co-founder and educational director Dr Peter Fletcher, the Academy has a truly collegiate feel and prides itself on delivering 'the things you can't get from books' - a practical learning model which inspires all Neurology Academy courses.