Care and Outcome Review of Hospitalised Patients with Parkinson Disease
---
By
Dr Than Dar Mya, Consultant Physician, Milton Keynes General Hospital & Dr Michael A. Adu-Darko
---
Introduction
Parkinson disease is the second commonest chronic progressive neurodegenerative disorder; Prevalence is 100-150 per 100,000 & increasing. Patient with Parkinson's disease are more likely to get admitted to hospital. Once hospitalised it's not uncommon to find disruption of PD medication schedule; delay in physiotherapy as well as PD Specialist input.
Compromise in PD Specific care could lead to poor PD symptom control, complications with potential impact on Length of stay (LOS), discharge destination with significant financial health care cost.
Although length of stay varies by study, a study of 367 PD patients and 246 emergency admission s in the UK found that mean LOS was longer for PD patients than for controls (21.3 vs 17.8 days). The finding may be underestimated as LOS may be shortened by discharge to a long term care facility.
Recommendations for care of PD patients during hospitalization have been developed by movement disorder specialists as well NICE CG71 - emphasising timely administration of PD medication as well as early therapy and PD Specialist input.
Following attendance of Parkinson masterclass, I was enthused to find out how local hospital was doing for care of hospitalized patients with Parkinson disease.
In MKUH, PD specialist service provided by Neurologist but in-patient care of patients with Parkinson's disease is provided predominantly in Geriatric department. As per 2011 census Milton Keynes has population of 248800. As prevalence of Parkinson disease is 100-150/100,000 it is estimated that there are about 375 patients with Parkinson disease in the area. As 35 % of affected patients are in Complex stage and 15% are in palliative stage it is estimated that about 180 with Parkinson's disease will be frequent user of in patient service either due to complications of Parkinson's disease or Comorbidity and care giver strain.
Focus of study was about care of Hospitalised patients with Parkinson's disease and outcome –in terms of Length of stay (LOS), Change of Residence, Readmission and Mortality.
Hopefully the study would identify local issues –where there is gap in service provision against NICE recommendations, so that action plan can be formulated for service improvement.
More Parkinson's Academy Inpatient care Projects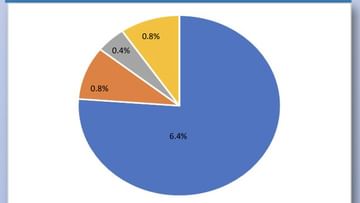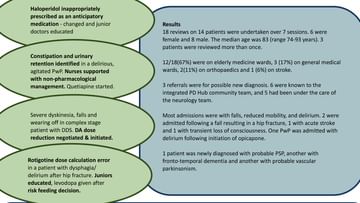 Parksafe QI Project
By
Dr Murudappa Bhattad, Consultant Care of the Elderly, Northern Health and Social Care Trust
'The things you can't get from the books'
Parkinson's Academy, our original and longest running Academy, houses 20 years of inspirational projects, resources, and evidence for improving outcomes for people with Parkinson's. Led by co-founder and educational director Dr Peter Fletcher, the Academy has a truly collegiate feel and prides itself on delivering 'the things you can't get from books' - a practical learning model which inspires all Neurology Academy courses.