Management of inpatients with Parkinson's at Princess Alexandra Hospital NHS Trust
---
By
Dr Kapila Gunasekera, Consultant Geriatrician, The Princess Alexandra Hospital
---
The Princess Alexandra Hospital (PAH) NHS Trust has recently updated its emergency clerking tool and has two sections to fill in patients drug history. A initial section filled in by the emergency department doctors and a more detailed section filled in by the physicians. Twenty sets of notes with a Parkinson's code were retrospectively audited to check whether a patients' Parkinson's medication history was accurately recorded. Were alternative routes of administration considered in patients with impaired swallow.
Results
STEP 1: Obtain an accurate drug history.
15 patients had an accurate history documented. 3 had diagnosis made after admission i.e new diagnosis. 2 incomplete.
STEP 2: Prescribe usual medication accurately and promptly at the time taken by the patient at home.
50% of the patients had drugs written at the time they were taken at home. The rest were documented on set times on the drug chart. 2 incorrect doses and 6 missed doses noted.
STEP 3: Take care to avoid drugs that can worsen PD.
No antipsychotic drugs prescribed. Cyclizine prescribed prn for 4 patients but never actually given. Ondansetron correctly prescribed for 5 patients.
STEP 4: If patient nil by mouth or poor swallow NG tube and calculate dispersible form.
1 missed opportunity for an NG tube.
STEP 5: Convert medication to transdermal patch in those who cannot have enteral medication.
None formally identified.
STEP 6: Resume medication as soon as possible.
No drugs formally discontinued.
Summary
Despite documenting drugs in 75% of patients the timing was only accurate in 50% of the total group. Incorrect prescribing of drugs such as cyclizine occurred but never administered. No antipsychotic drugs were prescribed. There was no attempt to use an NG in the solitary patient who was a candidate. No clear reasons were noted for drug omissions. There was input from neurologist when this was requested and often resulted in medication adjustments.
Further teaching has occurred on the importance of accurate prescribing and patient management in Parkinson's disease. A further audit will be carried out on a larger sample size to ensure improvements occur.
More Parkinson's Academy Inpatient care Projects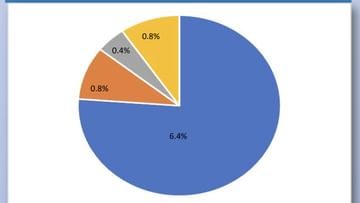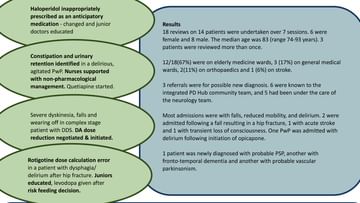 Parksafe QI Project
By
Dr Murudappa Bhattad, Consultant Care of the Elderly, Northern Health and Social Care Trust
'The things you can't get from the books'
Parkinson's Academy, our original and longest running Academy, houses 20 years of inspirational projects, resources, and evidence for improving outcomes for people with Parkinson's. Led by co-founder and educational director Dr Peter Fletcher, the Academy has a truly collegiate feel and prides itself on delivering 'the things you can't get from books' - a practical learning model which inspires all Neurology Academy courses.