Parkinson Disease patients with NOF Fracture
---
By
Dr Henry Aldoradin Cabeza, Consultant Physician, United Lincolnshire Hospitals NHS Trust
---
Introduction:
Parkinson disease is a chronic neurological condition in which prevalence increases with age.
Evidence suggest that Parkinson disease patients are at increased risk of falls more related to intrinsic factors (disease related) rather than extrinsic factors (environmental)
PD patients have increased rates of osteoporosis which may not be related to immobility only. Therefore the increased of falls and osteoporosis both increment the risk of NOF fracture.
Objective:
The Aim of the study is to demonstrate the incidence/relation between PD and the increment of falls / Neck of Femur Fractures. We select 20 patients with >75 y/o with PD admitted in the Orthogeriatric ward (B7) following a fall with a NOF fracture during January 2021. Through an observational study, longitudinal studies (cohort study). Inclusion criteria: Age, Gender, Postural Hypotension, Polypharmacy, Recurrent Falls, Anemia, CFS >5, AMT4<3, Bone protection, Low VitD levels, BMI<18.5, Osteoporosis/Osteopenia by DEXA
Service Development
Currently we put in place a Orthogeriatrics Unit at NWAFT-PCH in which received patients with Neck of Femur Fractures (NOF) and Multi-Comorbidities including Parkinson Disease (PD). Providing Comprehensive Geriatric Assessment in patients with Frailty/Functional Decline, Cognitive Impairment/ Dementia, and Polypharmacy
Results
75% of our population were Lady's with a mean Age of 80.75 y/o. 65% of our population have Postural Hypotension medication related- induce. Only 15% of our population had been taking Bone Protection tablet at the time of their. fracture55% of our population had low Vitamin D levels. 76% of our population had low BMI (<18.5) with Malnutrition. 85% of our population had been taking 5 or more medication daily (Polypharmacy). None of our patients have had a formal diagnosis of Osteopenia/Osteoporosis by DEXA scan. There is a statistical significance with a p<0.05 between Polypharmacy/ Postural Hypotension/ CFS>5 and PD patients admitted with a NOF fracture.
Conclusion
PD patients prone to have falls and NOF# due to postural hypotension, polypharmacy, and CFS>5
Patients with PD are not routinely prescribed bone protection medication and they don't have a formal Dx of Osteoporosis/ Osteopenia by DXA scan.
More Parkinson's Academy Falls & bone health Projects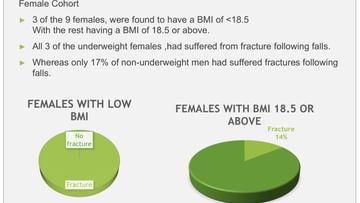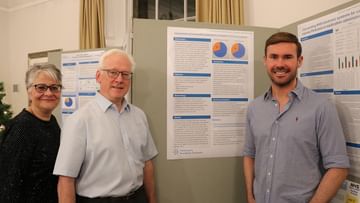 'The things you can't get from the books'
Parkinson's Academy, our original and longest running Academy, houses 20 years of inspirational projects, resources, and evidence for improving outcomes for people with Parkinson's. Led by co-founder and educational director Dr Peter Fletcher, the Academy has a truly collegiate feel and prides itself on delivering 'the things you can't get from books' - a practical learning model which inspires all Neurology Academy courses.