Parksafe QI Project
---
By
Dr Murudappa Bhattad, Consultant Care of the Elderly, Northern Health and Social Care Trust
---
Parkinson's disease patients are well managed under geriatricians and neurologists. Antrim Hospital has two geriatric wards and out of which one ward is dedicated to stroke and other one for general geriatric patients. We noticed that many PD patients were getting admitted care of acute physicians. We wanted to audit number of patients admitted under other medical teams. Audit data revealed that only 37 percent of patients were managed in care of the elderly ward. Currently there is no plan in place our hospital for Parkinson's patients who got admitted to non-geriatric wards. We felt that having input from geriatrician with specific interest in PD and neurologist would certainly benefit these patients. We initiated this project to improve the outcome in these patients.
We communicated this quality improvement project with all the ward managers via email. Short power point presentation was sent out with necessary contacts which included dedicated phone and email address of the project team. Team consisted of Geriatrician, Care of the elderly Registrar and Neurology nurse. We had advised them to inform us about any PD patients who got admitted to their wards. Patients were seen by Geriatrician and also had input from neurology nurse. Anticholinergic medications were stopped and referring teams were advised about how to deal with complications.PD consultant responsible for the patient was also informed about the admission. Neurology nurse was able to communicate with family and provided reassurance to them. This project has been welcomed by acute physicians and the mangers. Plan is to continue this project for another 6 months and re audit to look for ongoing effectiveness.

More Parkinson's Academy Inpatient care Projects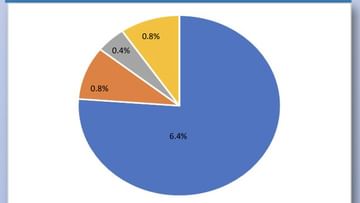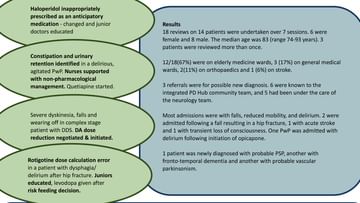 Parksafe QI Project
By
Dr Murudappa Bhattad, Consultant Care of the Elderly, Northern Health and Social Care Trust
'The things you can't get from the books'
Parkinson's Academy, our original and longest running Academy, houses 20 years of inspirational projects, resources, and evidence for improving outcomes for people with Parkinson's. Led by co-founder and educational director Dr Peter Fletcher, the Academy has a truly collegiate feel and prides itself on delivering 'the things you can't get from books' - a practical learning model which inspires all Neurology Academy courses.