Services for patients with Parkinson's disease within Havering Older Adult Mental Health Services
---
By
Dr Janet Carter & Dr Jo Rodda, UCL and North East London NHS Foundation Trust
---
This audit looked at patients with a recorded ICD-10 diagnosis of Parkinson's disease (PD) or PD dementia (PDD). We measured 31 such patients, 24 of whom were known to the PDNS. 28 had PDD, 1 had dementia with Lewy bodies (DLB), 1 had PD with hallucinations, 1 had lifelong schizophrenia and late life IPD. Many DLB cases are probably not recorded due to lack of ICD-10 code.
We measured sources of referral for these patients – most came from PDNS and GP, much fewer from neurology, liaison or adult psychiatry.
Neuropsychiatric symptoms and medication: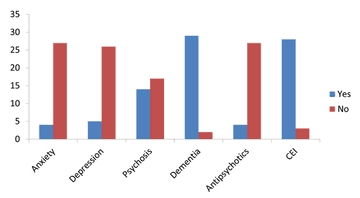 Information in most recent clinic letter:
Based on these findings we plan to make the following changes to the service:
PD nurses will attend the next memory service meeting
Communication about PD patients to be agenda item for upcoming meetings with local GPs and neurologists
Documentation standards developed for all clinics including letter template that requires specific information including: diagnosis, medication, information paragraph for GPs included for all patients on antipsychotics, cc all patients with PD letter to PDNS.
More Parkinson's Academy Mental health Projects
'The things you can't get from the books'
Parkinson's Academy, our original and longest running Academy, houses 20 years of inspirational projects, resources, and evidence for improving outcomes for people with Parkinson's. Led by co-founder and educational director Dr Peter Fletcher, the Academy has a truly collegiate feel and prides itself on delivering 'the things you can't get from books' - a practical learning model which inspires all Neurology Academy courses.