The impact of COVID-19 on hospital admissions in People with Parkinson's Disease
---
By
Dr Olushola Alonge, Consultant Geriatrician, Frimley Health NHS Foundation Trust
---
Write Up
People with Parkinson's Disease (PwP) have higher admission rates than the general population. Low et al examined the reasons for admission, length of stay costs and in hospital mortality in a national sample of Parkinson's disease patients1
In March 2020, the COVID-19 outbreak resulted in a UK government mandated National Lockdown. The outbreak has had a huge impact on core NHS services. To increase capacity for critical care of COVID-19 patients, many services were stopped, reduced and or changed from face to face contact to video or telephone consultation. Rapid increases in COVID-19 cases and fear of contracting nosocomial COVID-19 influenced decisions to access emergency care. PwP were identified as moderately vulnerable and at higher risk of serious illness if they contracted COVID-19. The increased vulnerability of the elderly and those with multimorbidity, coupled with the increased prevalence of Parkinson's disease with age further raised the concerns of potentially heightened risks of COVID-19 in PwP. Given the reduced access to face to face consultations and the anxiety, the Movement Disorder Society also recommended that all non-essential hospital attendance should be avoided for PwP and Telemedicine was encouraged as an alternative to clinic visits.

Our project looked at the impact of the COVID-19 pandemic on PwP accessing emergency care including a retrospective review of hospital admissions from March 2020-December 2020 in PwP, with particular emphasis why PwP were presenting to hospital, their length of stay in hospital and mortality data. We compared this data with outcomes from a similar pre-pandemic period the year before to determine if there were an obvious trend directly or indirectly attributable to the COVID-19 pandemic.

Our retrospective review of the hospital data indicates there was a 24% reduction in PwP discharged from hospital in Mar-Dec 2020 from the same period the year before. A recent report from Wilmington healthcare looking at the Impact of COVID-19 estimated there was an 18.6%reduction in non-elective admissions for PwP and a further estimate of a 20.2% reductio in Face to face outpatient appointments.
As we embark on the roadmap to lifting the National lockdown along with a successful vaccination programme, focus will now shift towards how we resume our movement disorders service, embracing the innovative ways of working necessitated by the pandemic which have demonstrated that combining virtual telemedicine with the more traditional face to face clinic models allows us to better integrate services across acute hospital and community service providers, whilst providing a more efficient diagnostic and treatment pathway for our patients and delivering improved patient experience.

References:
Measuring the burden and mortality of hospitalization in Parkinson's disease: A cross-sectional analysis of the English Hospital Episodes Statistics database 2009–2013 February 2015Parkinsonism & Related Disorders 21(5)DOI: 10.1016/j.parkreldis.2015.01.017

Understanding Coronavirus and Parkinson's- Parkinson's UK

Papa et al, Impact of COVID-19 Pandemic on Parkinson's disease and movement disorders', Movement Disorders, Volume 35, Issue 5, May 2020, Pages 711-715


Wilmington Healthcare, Parkinson's Concierge and Parkinson's Academy- Parkinson's Disease: The impact of COVID-19

More Parkinson's Academy Inpatient care Projects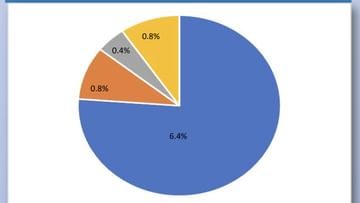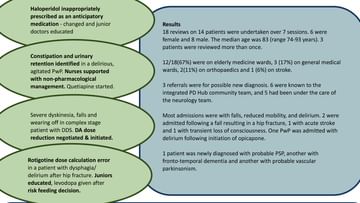 Parksafe QI Project
By
Dr Murudappa Bhattad, Consultant Care of the Elderly, Northern Health and Social Care Trust
'The things you can't get from the books'
Parkinson's Academy, our original and longest running Academy, houses 20 years of inspirational projects, resources, and evidence for improving outcomes for people with Parkinson's. Led by co-founder and educational director Dr Peter Fletcher, the Academy has a truly collegiate feel and prides itself on delivering 'the things you can't get from books' - a practical learning model which inspires all Neurology Academy courses.