Clinical trials: the big picture
Event reports
---
---
Our Parkinson's Cutting Edge Science conference took place on 21st June 2023 at Birmingham Conference and Events Centre and was chaired by Prof Emily Henderson.

You can read an overview of the entire event here. This write up is one of a series covering each session in detail for those who were unable to attend, or want to reflect on what they heard.

The event was sponsored by Bial Pharma. The sponsor had no input into the educational content of the meeting.
With a warning from chair Prof Emily Henderson that 'you are about to experience a whirlwind hold-on-to-your-seats tour of the latest in clinical trials' and that 'she will go too fast for you to make notes', neurologist and clinical researcher Dr Margherita Fabbri joined the meeting virtually from Toulouse in France.
By way of overview, she explained that the review was broken down into research themes across disease-modifying trials, early, advanced and late-stage Parkinson's, considering motor and non-motor, pharmacological and non-pharmacological trials of interest. She excluded surgical research due to time constraints. She applied a simple key to her slides to highlight whether a trial had met or not met its primary outcome, using a green plus or red minus sign.
This write-up includes a condensed review of some of the stand-out messages that Margherita shared, but in summary:
across all the disease-modifying treatment efforts for Parkinson's there have been disappointing clinical results although coming results in misfolded alpha-synuclein and early promising results in insulin resistance give hope here, and every trial advances our knowledge of what does and does not work.

trials in early motor symptoms are looking at the role of the D1 receptor and combination therapies

motor complication studies are predominantly repurposing drugs with a view to new targets

non-motor symptoms remain a largely neglected area of research (figure 1)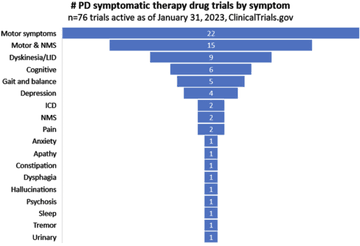 Fig 1: The number of Parkinson's symptomatic therapy drug trials by symptom; McFarthing 2023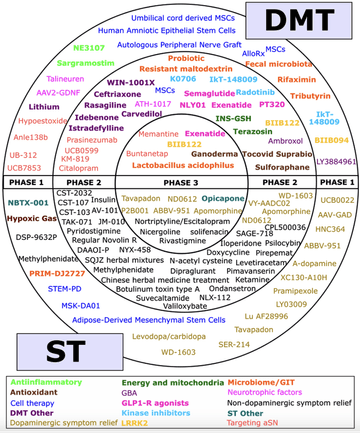 Fig 2: A schematic of all of the agents in active clinical trials for PD, registered on ClinicalTrials.gov as of the 31st January 2023 (McFarthing 2023).
Disease-modifying therapies
Introducing the categories of research within disease-modifying treatments, Margherita outlined studies across alpha-synuclein, glucocerebrosidase, LRRK2, anti-oxidants, iron, insulin resistance and neuro-inflammation.
Alpha-synuclein
Providing a brief background to alpha synuclein and an explanation of why there is such interest in it as a target for Parkinson's disease modification, Margherita then gave an overview of the different trials concerning it currently.
(PhD candidate Caoimhe Tyndell provides a compelling and clear overview of alpha-synuclein, its role in developing Lewy bodies in the brain, and some of the mechanisms presenting opportunities for treatment research in session 1 of free virtual course Lewy Body Bitesize).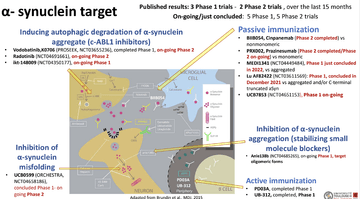 Fig 1: Within alpha-synuclein trials alone, there is research into a number of different mechanisms
In active immunisation trials PD03A (Poewe 2021) and UB-312 (Yu 2022) no safety concerns have been raised, although in passive immunisation, neither the SPARK study nor PASADENA trial (Pagano 2022) met their primary outcome, although the prasinezumab (tested in PASADENA) continues to be reviewed in the latest PADOVA trial. A trial into misfolding alpha-synuclein, phase 1 UCB0599 (Smit 2022) met its primary outcome around safely and tolerability, and has moved into a phase 2, ORCHESTRA, as has a study inducing autophagic degradation of alpha-synuclein (Walsh 2023) which advances to phase2 (PROSEEK).
Glucocerebrosidase-specific
Mutations in the GBA1 gene encoding the lysosomal enzyme glucocerebrosidase (GCase) are commonly known genetic risk factors for Parkinson development (Menozzi 2023), and this line of research examines this. The MOVES PD study (Peterschmitt 2022) using a glucosylceramide synthase inhibitor had an initially positive outcome but a phase 2 trial examining the same compound was not successful. However, a GCase activator trial targeting GBA1 has been successful and moves to phase 2 (den Heijer 2023).
Another study using gene therapy to target GBA1 (PROPEL) is being tested for the first time in humans and has a 5 year follow up period, whilst one enhancing GCase to improve cognition in people with Parkinson's is currently in phase 2 (AMBITIOUS).
LRRK2-specific
Several studies inhibiting LRRK2 in order to promote autophagy and help the body's natural mechanisms for removing faulty proteins and other compounds are in either phase 1 or 2 and finding favourable outcomes (Jenning 2022), whilst the LIGHTHOUSE study is now in phase 3 trials across 400 patients. The REASON trial, ​​taking a slightly different tact and targeting antisense oligonucleotide to inhibit LRRK2, is in phase 2.
Other
In trials focused on antioxidants agents, there have been negative results from the phase 3 trial by the Parkinson's Study Group investigators researching SURE-PD3 (2022) which had to be closed early. Two phase 2 studies, SKY and EMBARK, researching iron-chelation were terminated and their results are still pending. Another in this area, FAIRPARKII, failed on its primary outcome and found a worsening of 9.2 points of the MDS-UPDRS total score compared to placebo.
There are relationships between insulin resistance and Parkinson's; there is a higher rate of disease progression in people with Parkinson's and type 2 diabetes, and has been a lower incidence of Parkinson's amongst people with diabetes being treated with agonists of the glucagon-like peptide-1 (GLP-1) receptor. This has been found to activate mechanisms implicated in neuronal survival and synaptic plasticity.
Early results have seen improvement in non-motor symptoms in a phase 2 trial (Bresee 2022, p790) although results are still awaited from this and a phase 3 (Vijiaratnam 2021) exploring similar mechanisms. Margherita also gave an early 'scoop' into the LixiPARK phase 2 trial for lixisenatide which has found a reduction in 3 points on the MDS-UPDRS III compared with placebo.
Early-Parkinson's
Margherita highlighted several successfully concluded trials. Notably were the PREMANDYSK study which found that amantadine delayed dyskinesia by 18 months and improvements in freezing and quality of life, and the phase 3 EPSILON study which recently put out a press release announcing that opicapone as an adjunct therapy could improve motor function and reduce end-of-dose motor fluctuation and amount of time in 'off' periods, with no aggravating factors.
Low doses of pramipexole with rasagiline in early Parkinson's have also been explored for better efficacy than either alone, and greater tolerance than levodopa, and two phase 3 trials examining P2B001 have been found positive with between 2 and 3 point reductions from baseline on the MDS-UPDRS III and lower incidence of daytime somnolence and orthostatic hypotension.
Studies reviewing exercise as treatment in early Parkinson's have been positive; Margherita noted that we still cannot agree on a 'dose' of exercise in Parkinson's, but there is a growing evidence base. In terms of highlights, the Park-in-Shape trial (Johansson 2022) - increased function, preserved brain function and reduced brain atrophy, whilst another study looking at tai chi and one looking at brisk walking were also both positive in improved balance and MDS-UPDRS III. Margherita also highlighted several ongoing studies examining brisk outdoor or treadmill walking, all with longer follow-ups and seeking to establish 'dosing' of exercise in the same way as for drug treatments.
Advanced Parkinson's
Margherita highlighted the vast array of different studies in this area (figure 2) before honing in on areas of particular interest.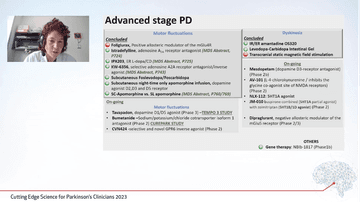 Fig 2: Advanced Parkinson's trials across different themes
In studies reviewing advanced Parkinson's a number of studies highlight beneficial findings with several different mechanisms to optimise levodopa becoming apparent. Trials to reduce motor fluctuations had varied results; the AMBLED study using foliglurax did not meet its primary outcome, whilst one using subcutaneous foslevodopa/foscarbidopa was more successful, without reduced 'off' time and reduced dyskinesia in 'on' times (Soileau 2022).
Other dyskinesia studies into intestinal gels such as DISCOVER have had early positive outcomes, whilst another which was terminated early due to low enrollment shows positive findings in pooled data (Rascol 2022). However, in non-pharmacological interventions to improve dyskinesia, the use of home-based transcranial static magnetic field stimulation (tSMS) of the motor cortex did not meet its primary outcome (Dileoneet 2022).
In terms of sleep symptoms, the APOMORPHEE study looking at motor fluctuations and insomnia using the Parkinson's sleep scale to review outcomes was found to be positive. Another study trialled the use of modafinil and low doses of flecainide to combat excessive daytime sleepiness with positive outcomes.
A new avenue of research considering gene therapy in Parkinson's has had favourable outcomes (Chadwick 2022). The therapy, using L-amino acid decarboxylase (AADC) to catalyse the reaction of levodopa to dopamine, was well tolerated in the sample of 40-70 year olds with moderate-advanced Parkinson's, and led to a 22-30% levodopa equivalent dose (LED) reduction and a global improvement in MDS-UPDRS III Off scores.
There are a range of trials ongoing in non-motor symptoms, including pain, impulse control disorders, mood, daytime sleepiness (Corvol 2022) and constipation (Camilleri 2022), some which have completed successful phase 2 trials (referenced).
Late stage Parkinson's
Reviewing some of the trials in neuropsychiatric and cognitive issues, people with Parkinson's disease dementia have been found responsive to pimavanserin (Tariot 2021), whilst a virtual reality trial for people with mild cognitive impairment found a significant impact in several cognitive domains (Chen 2022).
Trials on gait and balance including CHIEF PD, TAME-PD and IRLAB are all ongoing pharmacological trials. Several non-pharmacological studies in this area are also underway: a split-belt trial looking to improve gait adaptation found improvements did not translate off-treadmill, and no improvement was found in freezing or turning (Hulzinga 2022), whilst a stand-up paddle board trial to improve balance and cognition has just concluded (Aqua SUP-PARK).
Margherita ended her talk with a summary (included at the start of this write-up), and a reminder to the audience that, despite all the pharmacological advances, we cannot overlook the incredible importance and benefit of fun activities and continuity of care as a relevant and important form of therapy.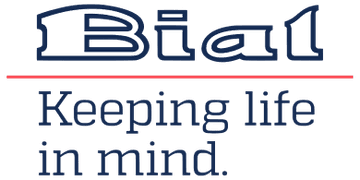 'The things you can't get from the books'
Parkinson's Academy, our original and longest running Academy, houses 20 years of inspirational projects, resources, and evidence for improving outcomes for people with Parkinson's. Led by co-founder and educational director Dr Peter Fletcher, the Academy has a truly collegiate feel and prides itself on delivering 'the things you can't get from books' - a practical learning model which inspires all Neurology Academy courses.