Findings of latest Parkinson's audit
News
---
---
In brief…
The 2022 Parkinson's Audit has been published with some concerning evidence that services overall may have deteriorated since the last audit in 2019 which promoted improvements in care specifically around bone health.
'The audit has demonstrated lack of progress, or even deterioration, in key areas, including early referral to therapy services, waiting times, standardised assessments, and care planning.'
Rowan Wathes, associate director of the Parkinson's Excellence Network
Key issues found were around lack of joined up care, lengthy waiting times for specialist services, non-timely medication access in acute settings, and a lack of sufficient patient-facing information.
However, access to and experience of specialist services such as a speciality doctor, specialist nurse and key therapies like physio, speech and language and occupational therapy is reportedly positive, although has decreased slightly from the 2019 audit results.
Additionally, patient experience of their core services was also felt to be largely positive:
'The majority still felt that their service was "improving" or "staying the same,already good" despite known pandemic pressures. These figures (83.1%) are slightly down compared with 2019 (87.2%)'
Parkinson's audit 2022 - p51
Evidence of good practice and areas where improvement is needed across these core areas of care is helpfully outlined in bullet points in the executive summary.
A bit more detail on the audit…
'The majority of respondents (80.3%) felt that the amount of contact that they had with their Parkinson's nurse met their needs. This was similar to the percentage who felt this was true for their Parkinson's specialist doctor at 78.7%. This compares commensurately with 80.3% and 79.4% respectively in 2019.'
Patient Reported Experience Measure (PREM), Parkinson's Audit 2022 p42
With regard to timely access to medication only 42% felt they had always been issued their medication on time. Of the other 60%, nearly 40% felt this had had a negative or significantly negative effect on their Parkinson's (p50).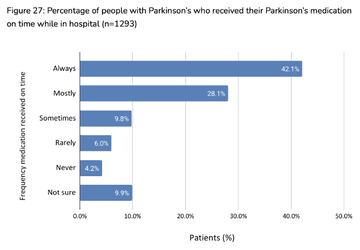 Various projects have looked at optimising medicines management in hospital settings for people with Parkinson's - specialist nurse Nick Bryden was just highlighted in parliament for his zero-cost solution to improvement in timely access to Parkinson's medication.
Access to information was also an area where improvement is needed. Almost 40% either felt they had not had enough information about their condition or were unsure of whether they had or not (p49). Given the multi-faceted importance of self-management for the individual, their family and the health services they interact with, this is an important area of services to focus on.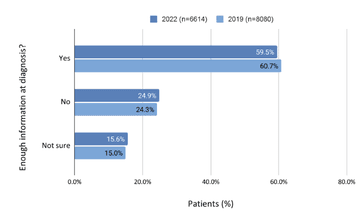 The 2019 audit highlighted the importance of prioritising bone health in Parkinson's, and the Excellence Network funded an audit last year specifically into bone health management. However, the 2022 audit found that only 60% of respondents felt they had been part of discussions regarding balance and falls, compared with 76.3% in the 2019 audit, whilst less than 20% felt that risks around osteoporosis and fracture risk had been discussed with them.
'Supportive skeletons' is our education with impact report highlighting why it matters and 7 different approaches to improving it in local services. There are also 18 different intermodule projects addressing falls and bone health in our project repository online.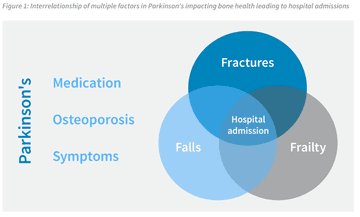 In responding to the audit, associate director of the Parkinson's Excellence Network Rowan Wathes commended staff for their commitment to provide the best service they can within the current challenges of the NHS:
'Meanwhile, NHS staff face the challenge of providing good Parkinson's care in the face of increasing demand, more complex care needs and a shortage of staff. Despite these challenges, the uptake of the audit shows that the nurses, therapists, doctors and other health care professionals who make up the multidisciplinary Parkinson's team are committed to providing the best service they can to people with Parkinson's.'
More information
To understand how Parkinson's Excellence Network is tackling some of these challenges such as timely access to medication in hospital, read our interview with Rowan and one of the directors of the Excellence Network Jonny Acheson to understand their work to date and their priorities for the coming year.
Read the full audit report here, or the executive summary here.
'The things you can't get from the books'
Parkinson's Academy, our original and longest running Academy, houses 20 years of inspirational projects, resources, and evidence for improving outcomes for people with Parkinson's. Led by co-founder and educational director Dr Peter Fletcher, the Academy has a truly collegiate feel and prides itself on delivering 'the things you can't get from books' - a practical learning model which inspires all Neurology Academy courses.