First ever World Movement Disorders Day
News
---
---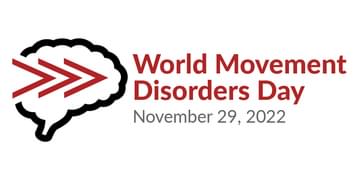 Today is the first ever World Movement Disorders Day! The Movement Disorders Society has developed the global mark to create education and awareness across a global community.

The day is being marked by webinars aimed at the Eastern and Western hemispheres respectively, and people affected by, or working with those experiencing a movement disorder are encouraged to join together via social media to bring increased awareness of movement disorders and educate those around them.

'Join MDS to celebrate the 1st World Movement Disorders Day, as we aim to bring the global community together to educate and boost #movedisorder awareness.'
There are a range of conditions which are considered movement disorders, of which Parkinson's is perhaps the most well-known. Whilst Neurology Academy does not offer in-depth education on all of them, you can find out about almost every type of movement disorder on one of our courses.

Dystonia, tremor, restless legs, chorea and myoclonus are all movement disorders in their own right, but they are also considered symptoms of Parkinson's as someone with Parkinson's may experience any or all of these, and as such, identification and management of them is covered within our Parkinson's MasterClasses.

Movement disorders such as progressive supranuclear palsy (PSP) and multiple system atrophy (MSA) can be mistaken for Parkinson's, and so in both our Parkinson's MasterClasses and in our Parkinson's tailored management programme, these conditions are covered as differential diagnoses, alongside red flags which will help practitioners detect them in those with Parkinsonian features.

Some movement disorders are considered particularly complex to plan services for, or to respond to well. In June's Neurology network managers meeting, sessions on Huntington's disease focused on the complexity of the care pathway and provided practical ideas on how to effectively plan for and commission appropriate services for this population group. Later in the meeting, a commissioner and practitioner together discussed their service development to support people with functional neurological disorder (FND), an often under-diagnosed and underserved group of individuals.

Of the sixteen movement disorders represented by the Movement Disorder Society, Tourette syndrome may be the only one not discussed in some format or other of education at Neurology Academy and our Parkinson's courses are probably the best place to start to gain an overview of many of these conditions.

This World Movement Disorders Day focuses on a need for increased awareness and education. The Movement Disorder Society has a range of patient-facing leaflets in a variety of languages on their website, and we will continue to highlight this range of conditions alongside the movement disorder we have educated on for twenty years: Parkinson's.
If you would be interested in more in-depth education on any of the other movement disorders, please get in touch - we are always keen to expand the education we provide and the support we can offer.

#MoveDisorder

Related articles
'The things you can't get from the books'
Parkinson's Academy, our original and longest running Academy, houses 20 years of inspirational projects, resources, and evidence for improving outcomes for people with Parkinson's. Led by co-founder and educational director Dr Peter Fletcher, the Academy has a truly collegiate feel and prides itself on delivering 'the things you can't get from books' - a practical learning model which inspires all Neurology Academy courses.