Five years of MS Academy: what have we achieved?
News
---
---
Multiple sclerosis (MS) Academy was established 5 years ago in response to a growing need for training and mentorship across all disciplines involved in MS healthcare provision, alongside an awareness of increasing unwarranted variation in MS services. Our aim was to support development of a broader range of expertise and collaborative working in MS to meet the challenges of the NHS 'postcode lottery'.
We drew on Parkinson's Academy's educational model: its (then) 15 year legacy of new specialists and its emphasis on practical application of learning to create significant service change. The hopeful expectation was that MS Academy could effect similar change in the same way through this unique method of education: developing and equipping specialists in MS with knowledge and enthusiasm and supporting them to effect change through workplace projects.
We hoped that this form of education would support the workforce and reduce variation in MS care through an active clinical network, in turn promoting speedier diagnosis, evidence-based, integrated care and improved outcomes for people with MS.

In review after just five years, we are hugely encouraged that this aim is being achieved. MS Academy has seen 1,624 unique healthcare professionals attend one of our events to date, spanning a range of roles (figure 1).

Events and courses

A gross total of 3,819 people have attended one of our in-person or virtual events, suggesting most delegates have attended at least two distinct events, whether MasterClasses, conferences, roadshows or webinars.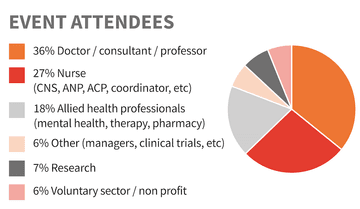 Figure 1: Variety of roles held by attendees of events (2019-2022)
Our range of events centre around our MasterClasses, supported by occasional roadshows, online courses or national conferences like Raising the Bar, and we consider our webinars as separate to these events.

We have had an average rating of 4.5 out of 5 across our events, attended by a gross total of 1,050 event attendees. 761 unique individuals, many who have attended more than one event, have learned from, and been enthused by, 178 individual expert speakers across the past five years.

We aim to deliver these in-person to support networking and the development of an MS community, although many were held virtually during the course of the pandemic and we now offer a 'hybrid' option to attend an in-person event virtually. A great deal of content from events is shared through articles and interviews post-event, as well as some lectures in podcast or video form, so as many people as possible can learn from them.

'Very well organised sessions especially on a virtual platform where things can work variably. I really enjoyed the interactive use of Slido. The quality of video and slides was up to the mark and the presenters seemed very amiable. Informative sessions and talks relevant to actual clinical practice. '
Delegate attending a MasterClass virtually
Our Academy mission is to deliver transformative education, and nowhere is this more apparent than via the workplace projects. A mandatory part of our Foundation and Advanced MS MasterClasses, as well as on our Leadership MasterClass, improvements in services and outcomes for people with MS have been evaluated in 124 of these unique projects. Developing relationships and networking between delegates has led to collaborative working on several projects, with Leadership's project deliberately spanning the whole cohort to further challenge leadership skills and team working.

'As clinicians, we have to have a starting point - if there's evidence-based information out there, we need to use it - and having a trusted space to share that can act like a springboard.'
MS Academy delegate
Figure 2: Map demonstrating spread of MS Academy event* attendees
Around 20% of our MasterClasses have been attended by delegates from overseas, the majority specifically attending one of our International MasterClasses. Our webinars have likewise seen around 20% of international attendees.

Online activity
In addition to our core events, we began hosting webinars in 2020 as a result of the coronavirus pandemic; many healthcare professionals in our network were highlighting their uncertainty and need for support. The free webinars, which run live and remain available on demand thereafter, have had over 2,500 live attendees and more than 25,000 on-demand views. As a result of their popularity and the continued request for thematic and topical education, we continue to provide them regularly as part of our educational offering.

Figure 3: MS Academy Webinar Overview in infographic
Our webinars, alongside other online content, have resulted in increasing web traffic and hugely expanded our online community. Since October 2018, we have seen more than a 400% increase in our mailing list subscribers, the majority of who signed up during the pandemic.

Beyond events
Championing the importance of every role, there is a notable 'lack of hierarchy' on courses amongst delegates and speakers alike, and year on year, we endeavour to attract a wider variety of roles and specialisms to our courses both in terms of delegates and speakers.

'Overall impression: A truly fabulous course, I have enjoyed all the sessions and learnt so much and feel very excited to get back to work and put my knowledge into practice. Thanks to all involved for your time, the passion for MS treatment and diagnosis shone through.'
Delegate from an MS Foundation MasterClass
Recent courses have seen a much higher representation from therapists and allied health professionals, whilst our Faculty are focussing on symptom management and therapeutic approaches for this years' webinar content.

After the Raising the Bar for MS programme noted a need for clinical leaders in order to more successfully effect change, we established the MS Leaders Academy with Prof Gabriele de Luca and Barbara Hoese in order to begin to meet this need.

MS Academy optimises impact on education and service improvement by linking with other Academies: managing cognitive impairment in MS is relevant to our course on Mild cognitive impairment and examples of business development and service planning in MS is shared within the Neurology Network Manager's Meeting for service managers and commissioners.

Additionally, several MasterClasses have been developed by previous graduates, who have worked with us to meet unmet needs that they have identified: MS Basecamp resulted from alumni and now speaker Dr Riffat Tanveer's workplace project into support to registrars in developing a specialism in MS, and General Neurologists is new this year in response to Honorary Academy Director Dr Wallace Brownlee's vision to reduce variance through improved understanding of MS amongst generalists. Additionally, Neuropharmacy Academy was developed by pharmacists Rachel Dorsey-Cambell and Joela Mathews after they completed an MS MasterClass and shared a vision to improve neuropharmacist involvement in managing neurological conditions.

We're very aware that none of this amazing work would have been possible without the support of so many people. We're hugely grateful to our sponsors whose financial support enables so much of our work, and to our Faculty and speakers who create the educational content and drive our Academy. A final thank you goes to every one of our delegates for using MS Academy as an opportunity to develop their knowledge, skillset and local services to benefit the wider MS community! We look forward to continuing that support, to you and the next generation of MS specialists, over the coming years.
*Wherever we refer to 'events' we include MasterClasses, conferences such as Raising the Bar, roadshows, and webinars, across both in-person and virtual formats. All data was correct as of 13th June 2022.
Encouraging excellence, developing leaders, inspiring change
MS Academy was established five years ago and in that time has accomplished a huge amount. The six different levels of specialist MS training are dedicated to case-based learning and practical application of cutting edge research. Home to national programme Raising the Bar and the fantastic workstream content it is producing, this is an exciting Academy to belong to.