Multiple System Atrophy - new criteria for diagnosis
Knowledge
---
---
Multiple System Atrophy (MSA), a condition sometimes misdiagnosed as Parkinson's initially due to the similarities in early presentation, has had new diagnostic criteria published which should improve diagnosis rates in the rapidly-progressive condition.
Published by the Movement Disorders Society, this is the third iteration of diagnostic criteria for MSA, and whilst the criteria for neuropathologically established MSA remain unchanged, there is a new category for clinically established MSA.
Dr Jalesh Panicker highlighted the criteria at the recent Parkinson's Cutting Edge Science conference in his session on bladder management, due to the presence of voiding difficulties and unexplained urinary urge incontinence as one of its core clinical features. He noted that often, a patient with MSA may first present to a urologist and that the 'unexplained' element in incontinence is the real red flag here (fig 1).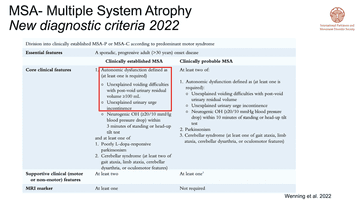 (Taken from Dr Panicker's slides during 'Everything a physician needs to know about urinary problems in Parkinson's' at PDCES on 18th May 2022)
The new criteria can be found at and the article is available in full online via the Movement Disorders Society.
The article citation is:
Wenning GK, Stankovic I, Vignatelli L, Fanciulli A, Calandra-Buonaura G, Seppi K, Palma JA, Meissner WG, Krismer F, Berg D, Cortelli P, Freeman R, Halliday G, Höglinger G, Lang A, Ling H, Litvan I, Low P, Miki Y, Panicker J, Pellecchia MT, Quinn N, Sakakibara R, Stamelou M, Tolosa E, Tsuji S, Warner T, Poewe W, Kaufmann H. The Movement Disorder Society Criteria for the Diagnosis of Multiple System Atrophy. Mov Disord. 2022 Apr 21. doi: 10.1002/mds.29005. Epub ahead of print. PMID: 35445419.
'The things you can't get from the books'
Parkinson's Academy, our original and longest running Academy, houses 20 years of inspirational projects, resources, and evidence for improving outcomes for people with Parkinson's. Led by co-founder and educational director Dr Peter Fletcher, the Academy has a truly collegiate feel and prides itself on delivering 'the things you can't get from books' - a practical learning model which inspires all Neurology Academy courses.