Parkinson's Cutting Edge Science Conference in brief: 2022
Event reports
---
---
Parkinson's Cutting Edge Science is our annual conference for Parkinson's specialists. It prides itself on challenging accepted thought and questioning established practice, as well as providing a platform for the latest research and an opportunity to debate new approaches.
This year's conference, the fifth of its kind, was once again sponsored by BIAL who have consistently enabled the Cutting Edge conferences since their inception through their financial support, whilst having no involvement in the organisation or educational content of the meetings.
Our largest ever Neurology Academy event to date, and saw 170 Parkinson's specialists gather together to do just this. The majority of attendees chose to do so in person with over 100 delegates joining our speakers and in-house team at the venue, but the option remained for virtual attendance as well, and more than 50 people chose to join the live-streamed event from elsewhere.
The day was chaired by Dr Emily Henderson, and there was an incredible sense of community in the conference hall where everyone gathered for a packed day of expert-led sessions.
Brilliant talk by Dr Jalesh Panicker at #PDCES on bladder problems in Parkinson's certainly need more focus on this NMS issue

— Sue Thomas (@Sue_NHiS) May 18, 2022
Each speaker spoke live from the venue, and after each of the in-depth talks, there was an opportunity for questions from the floor. Using a combination of a roving microphone and questions posed via online app sli.do ensured every delegate, however they were attending, had the opportunity to ask for further insight. Questions were often challenging and opened the topic up more widely, adding further value to the session.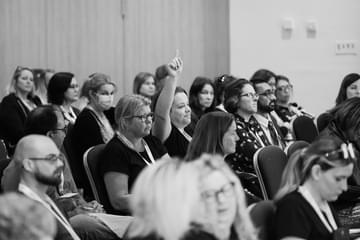 An engaged audience posed challenging questions from the floor
Dr Yen Tai opened this year's conference by sharing results from some of the early studies on spinal cord stimulation as a treatment option for gait dysfunction in Parkinson's. Yen was clear that this is a very targeted treatment for specific patients; people with Parkinson's experience falls for a wide range of reasons, and Yen highlighted the importance of phenotyping patients to ensure the most appropriate treatment is used in the future to target the underlying cause of each patients' gait problems. In response to queries from the floor seeking to understand what this might mean practically in current clinics, he clarified that whilst this treatment provides potential hope for future patients, it is not yet something which can be offered as a treatment option.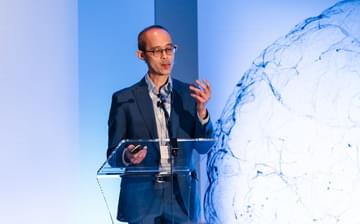 Dr Yen Tai presents the latest research on spinal cord stimulation for Parkinson's gait dysfunction
The following session moved from motor to psychiatric management, with an exploration into safer treatments for hallucinations experienced by people with both Parkinson's and Lewy body dementia (LBD). Professor Suzanne Reeves, clinical senior lecturer in Old age psychiatry outlined how hallucinations can present in people with Parkinson's and LBD and touched on their origins, before focusing the core of her talk on appropriate assessment and available treatment options. She also discussed the Top Hat trial of which she is the PI (primary investigator), which is looking at the use of ondansetron to treat Parkinson's hallucinations. Suzanne provided measured and thoughtful responses towards questions on some of the current common prescriptions used such as memantine and selective serotonin-reuptake inhibitors (SSRIs), but was clear that whilst they are often prescribed as a 'safe choice' and there is a link between the severity of hallucination and a person's mood, there is insufficient evidence to suggest they are helpful in treating hallucinations.
Next to the stage was uro-neurologist Dr Jalesh Panicker who addressed urinary problems in Parkinson's and 'shared everything a physician needs to know about them'. Opening with stark data, he explained the impact that bladder problems in Parkinson's have on the NHS, with urinary tract infections and incomplete bladder emptying or urinary retention currently two of the top three reasons for non-elective Parkinson's admissions in England. He provided the room with five take-home messages for physicians covering prevalence, complexity, trajectory, management and where the symptom might be a red flag for a differential Parkinsonian condition.
Part of Cutting Edge Science is to highlight the latest research opportunities and findings. Our next session did just that, focusing on the brand new multi-arm, multi-stage (MAMS) clinical trial 'EJS ACT-PD'. Neurologist Prof Tom Foltynie, part of the leadership team for the Edmond J. Safra Accelerating Clinical Treatments for Parkinson's Disease initiative explained how this new form of trial, modelled on the MS Octopus trial, stands to revolutionise the future research around disease-modifying treatment for Parkinson's. Four different drugs and a control arm will feature in the trial, and a great deal of work has been taking place in the background since 2021 to make this a reality. Pending successful funding, the trial should begin in earnest in 2024 and Tom explained the aim that, as occurs with cancer diagnoses, every person diagnosed with Parkinson's could be offered a place in the trial, potentially offering a sense of positivity and hope to those receiving this difficult diagnosis.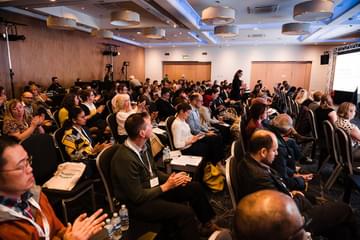 A full conference room for Parkinson's Cutting Edge Science this year
After lunch, the focus shifted to less concrete but no less important elements of Parkinson's management and care. Parkinson's nurse advanced practitioner Jane Price explored the complexities of shared decision-making in Parkinson's, followed by Dr Robin Fackrell, Medicine for the elderly consultant, who delved into the 'dilemma and deliberation' of ethics in Parkinson's care.
Giving a whistlestop tour through the guidance available, Jane reflected on her own practice in sharing what can help or hinder successful shared decision-making with patients, and presented case studies to illustrate this. Jane talked about the importance of presenting clear evidence to patients and providing accessible information, and outlined the many factors which need consideration when personalising medicine, treatment, research options and care. Looking at the broad range of decisions that a person needs to make, Jane talked about acknowledging the overwhelm that can often be felt at diagnosis, and the importance of recognising what decisions to broach when to ensure the best outcomes for that individual. She examined the importance of considering cognition and mood, of medication impact and impulse control disorder, as well as the challenges that come when a patient makes a decision which would be counter to clinical advice. Her detailed case studies provided practical illustrations of these various complexities and their interplay in reality.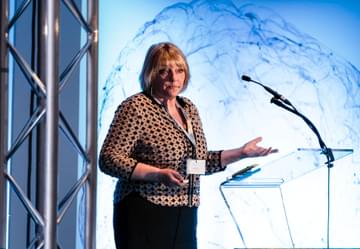 PDNS Jane Price discusses shared decision-making in Parkinson's
Finally, Dr Robin Fackrell led the final session of the day, opting for maximum interaction from the audience and encouraging virtual delegates to get involved via sli.do as much as possible. Setting the scene with the four principles of bioethics spurred early debate from the floor of what principles trump, how to balance them out when different professionals involved in care may have different perspectives, and how to acknowledge individuals' rights, preferences and autonomy at all times. Using case studies, Robin encouraged people to 'park their preconceptions', and led discussion around complex scenarios where legal obligations and perceived risks to the individual or others around them may need consideration. In many situations there is not one 'correct' way to proceed but a thoughtful weighing up of factors and a personal choice to take action.
The conference was summed up well on Twitter by delegate Dr Sandy Thomson:


Terrific day of CPD at the Cutting Edge Science in Parkinson's disease with @TheNeuroAcademy
Catching up with colleagues, sharing ideas, organising future get-togethers, training issues and patient-focused.
Great stuff. Highly recommended. pic.twitter.com/GzB4wOrra6

— Sandy Thomson (@DrSandyThomson) May 18, 2022
It was wonderful to have so many enthusiastic practitioners in the room this year - for those who were unable to attend, detailed overviews of each session will be released on a weekly basis online via our news pages. Next year's meeting is already in development, and we look forward to announcing it soon. Keep an eye on our website to register early for 2023!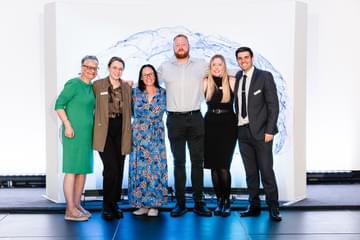 Our hardworking team on site - a big thank you to them all!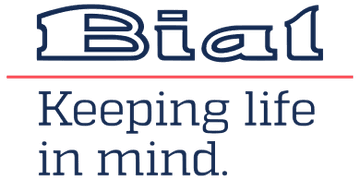 This meeting is designed and delivered by the Parkinson's Academy and sponsored by BIAL Pharma. The sponsor has had no input into the educational content of this meeting.
'The things you can't get from the books'
Parkinson's Academy, our original and longest running Academy, houses 20 years of inspirational projects, resources, and evidence for improving outcomes for people with Parkinson's. Led by co-founder and educational director Dr Peter Fletcher, the Academy has a truly collegiate feel and prides itself on delivering 'the things you can't get from books' - a practical learning model which inspires all Neurology Academy courses.