Palliative Care MasterClass – Winter update
News
---
---
The potential for palliative approaches to benefit people with neurological conditions is increasingly recognised. The Movement Disorder Society (MDS) now has a palliative care task force specifically examining this area, and the first trial of integrated palliative care for Parkinson's Disease (PD) reported provisional results at the conference in Nice.
As the demand for palliative care grows, it is increasingly clear that this can no longer be viewed as the sole responsibility of Palliative care specialists or the hospice movement, but rather, must become embedded in the daily practice of all of those who care for people with progressive, life limiting conditions.
It is this principle which inspired the Palliative MasterClass. The class draws on the disease specific expertise within the Neurology Academy and adds to this the knowledge and experience of specialist palliative care clinicians. We believe this approach to be unique to the Academy and helps us to cater both to those from a neurology background, seeking to develop a "palliative approach" in their practice, as well as to palliative specialists who wish to build their disease specific skills. In 2020 the course will cover palliative care for Parkinson's disease, Dementia, Multiple Sclerosis and Motor Neurone Disease.
In keeping with the other arms of the Academy, the Palliative MasterClass seeks to build iteratively, each year, to evolve the course and best meet the needs of delegates in a rapidly changing field. This year, in response to delegate feedback, we will be introducing break-out sessions so that delegates can focus on specific aspects within their individual learning objectives. For example, those from a palliative care background may wish to focus on the management of Parkinson's disease medications, particularly in an end of life setting. We know that access to hospice is low in this group, perhaps because of concerns around management of unfamiliar medication regimes and the fears regarding neuro-psychiatric symptoms. Alternatively, those from a neurological background may wish to concentrate in greater detail on practical aspects of Advance Care Planning. As ever we will seek and respond to your feedback on these developments.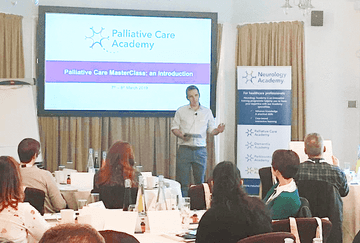 Dr Ed Richfield, March 2019 in Sheffield
The course will prioritise an inclusive atmosphere where delegates can learn from each other, as expert clinicians in their own area, as well from an exciting faculty line up, with diverse backgrounds and skill sets. We feel passionately about the importance of palliative approaches in neurological conditions and are excited about the opportunity to develop skills amongst colleagues, which will improve access to services for people living with these conditions.
We hope you can join us and look forward to meeting you in March!
For every person, at any stage
Palliative Care Academy challenges the idea of palliative care as a late-stage service. Whilst recognising the practical nuances and bespoke approaches needed in palliative care for people with dementia, Parkinson's, MS and motor neurone disease respectively, the Academy promotes a holistic and positive approach to palliative care at any stage of any condition.