Audit of pregnancy counselling in women with Multiple sclerosis
---
By
Julie Collingbourne, Senior MS Specialist Nurse, Department of Neurology Royal Cornwall Hospitals Trust
---
There is a lot to think about before trying for a baby, and Multiple Sclerosis (MS) can bring extra challenges. There are more than 75000 women in the UK living with MS¹'², and most commonly women are diagnosed in early adulthood³. Many will have not completed their families, and women with MS are keen to have children. It is therefore important that family planning and pregnancy is proactively discussed, particularly when considering disease modifying treatments (DMTs)³. There is limited data on the safety profiles of DMTs, during pregnancy and the possible risk to the unborn fetus to inform such discussions. However, deferring treatment until women with MS have completed their families can have detrimental effects long term with the accrual of neuroaxonal damage in early relapsing remitting MS leading to irreversible disability later in the condition³. There is increasing appreciation that treatment decisions or family planning can be influenced by the lack of input by health care professionals, leading to fears about having children, the ability to have and to look after children, and whether MS remains dormant during pregnancy².
The Royal Cornwall Hospitals Trusts MS Nursing Team conducted an internal audit, on the current DMT caseload, examining pre -pregnancy, post conception and breast feeding counselling. The team raised the question of whether we were providing enough education and how this was documented. Historically the team used specific pharmaceutical DMT patient literature as an information tool. The UK Consensus on pregnancy in Multiple sclerosis: 'Association of British Neurologists' is now adopted as the service benchmark, with the aim to improve our pre pregnancy information and counselling. A re-audit is due to take place later this year.
REFERENCES
MS Trust. About MS. Available at mstrust.org.uk (accessed May 2019)
Portaccio E, Moiola L,Martinelli V,et al. Pregnancy decision making in women with Multiple Sclerosis treated with Natalizumab II:Maternal risks Neurology 2018;90:e832-e839
Dobson R,et al. UK consensus on pregnancy in multiple sclerosis: 'Association of British Neurologists'guidelines. Practical Neurology 2019;0:1-9
More MS Academy Comprehensive care Projects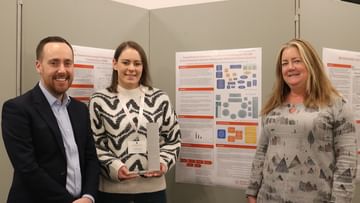 Encouraging excellence, developing leaders, inspiring change
MS Academy was established five years ago and in that time has accomplished a huge amount. The six different levels of specialist MS training are dedicated to case-based learning and practical application of cutting edge research. Home to national programme Raising the Bar and the fantastic workstream content it is producing, this is an exciting Academy to belong to.