Developing Trust Guidance for Inpatient Management of Parkinson's Disease
---
By
Dr Joanna M. Ulley, Specialist Trainee in Geriatrics and Stroke Medicine, Barnsley Hospital NHS Foundation Trust
---
Background
Barnsley Hospital admits an average of 9 patients with Parkinson's Disease per week (planned and unplanned admissions). It is well documented that inpatients with Parkinson's Disease are vulnerable to admission-related medication error. Missed or delayed administration of Dopamine containing drugs, such as Levodopa and Dopamine agonsists can result in acute akinesia, swallowing problems, reduced mobility and, if delays are significant, neuroleptic malignant-like syndrome. These complications in turn lead to increased dependency, increased lengths of stay in hospital and ultimately increased mortality.
Prior to my arrival at Barnsley Hospital, two registrar colleagues undertook an audit: 'Correct Prescribing of Parkinson's Disease Medication (Get it on time)' published May 2020. This audit reported that up to 74% of patients with Parkinson's do not have their medications prescribed at the correct dose and timings on admission to hospital. A combination of factors were identified; a lack of awareness amongst junior clerking doctors regarding inpatient management of Parkinson's Disease, a lack of availability of dose and timing information (inaccurate Summary Care Records and failure of documentation e.g. clinic letters and discharge letters). These finding led to the proposal that a local guideline for the inpatient management of Parkinson's Disease should be developed.
More Parkinson's Academy Planning, policy and guidance Projects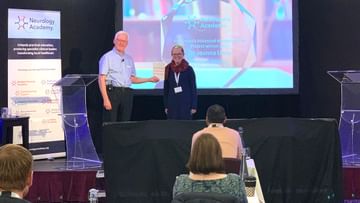 'The things you can't get from the books'
Parkinson's Academy, our original and longest running Academy, houses 20 years of inspirational projects, resources, and evidence for improving outcomes for people with Parkinson's. Led by co-founder and educational director Dr Peter Fletcher, the Academy has a truly collegiate feel and prides itself on delivering 'the things you can't get from books' - a practical learning model which inspires all Neurology Academy courses.