20 year's service award for founding member, Dr Peter Fletcher
News
---
---
We are thrilled to have presented Parkinson's Academy's academic director Dr Peter Fletcher an award for 20 years of service to Parkinson's Academy today at one of the year's final MasterClasses.

A consultant physician in care of the elderly, he was one of the four founders of Parkinson's Academy and he continues to direct our educational focus, and continues to bring his signature passion for Parkinson's care and enthusiasm for the transformative power of practical, effective education.

Our huge congratulations go to him for this amazing service, alongside our sincere gratitude for all he has contributed over the years.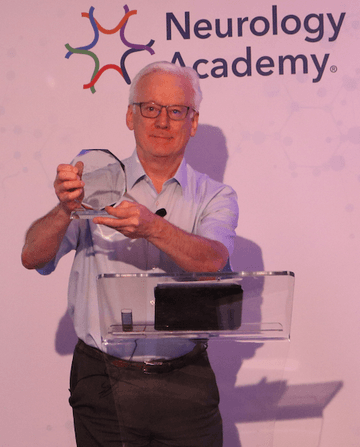 'Peter was one of the founding faculty members who started Parkinson's Academy back in 2002 alongside two other consultants and a nurse, and I was privileged to be brought in to help develop the format and run the first MasterClass.

I am incredibly proud to present Peter with an award for his 20 years' service as academic director of Parkinson's Academy. He has been instrumental in developing the Academy, and in providing structure to support our other Academies, allowing them to flourish with his knowledge.
He initiated the pre-course evaluation which is used throughout all our education to ensure we tailor each course to that class's needs, and has been instrumental in shaping the workplace projects and mentorship - all ensuring the delegates are the focus of the education provided, and that patients benefit from that education.'

Related articles
'The things you can't get from the books'
Parkinson's Academy, our original and longest running Academy, houses 20 years of inspirational projects, resources, and evidence for improving outcomes for people with Parkinson's. Led by co-founder and educational director Dr Peter Fletcher, the Academy has a truly collegiate feel and prides itself on delivering 'the things you can't get from books' - a practical learning model which inspires all Neurology Academy courses.